 As the eco-friendly movement is quickly gathering momentum, attention is being put on the fashion industry as we look to find ways to reduce our fashion waste.
For many of us, the idea of trying to create a more sustainable wardrobe is daunting as it's difficult to know where to start.
Here are some simple ways you can create a more sustainable wardrobe:
Swap Shops & Clothing Swap Parties
These are both great ways to get some fabulous new clothes while also getting to socialise, hang out with friends and even make some new ones.
The rules of swap shops and parties will vary depending on what event you're going to and who is hosting it but the general idea of both is that everyone brings along clothing they would like to donate and you either buy or trade from all the clothing brought to the event.
Sustainable Fashion Dublin regularly host swap shop events in the city and we've heard you can find some gorgeous pieces there.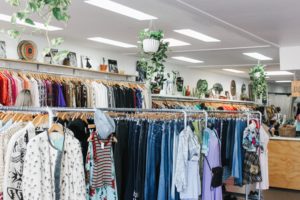 Become a Regular in your
      Local Charity Shop
Advertised
Donating your unwanted clothes to charity shops is a perfect way to make room for new pieces while giving your pre-loved clothes a second life.
They're also a good alternative to shopping in high street stores,  as you can often find lots of pre-loved high street pieces that were donated by other environmentally conscious individuals.
The only downside to charity shops is that it can take some time and searching to find clothes you really love, but when you do find them it's definitely worth it.
Buy From Eco-Friendly Clothing Brands
There are lots of sustainable clothing brands popping up in Ireland. Fresh Cuts is a Dublin based brand that creates simple, high-quality pieces.
High street brands such as Zara and H&M have now come out with their own eco-friendly collections that are just as stylish as their other collections.
Asos has also released its own collection of eco-friendly clothing and created a whole section of their website dedicated to all of the eco-brands they have available. 
Advertised
So creating a more sustainable wardrobe isn't actually as difficult as might think. Using just one of these tips will be a great help in reducing global fashion waste.