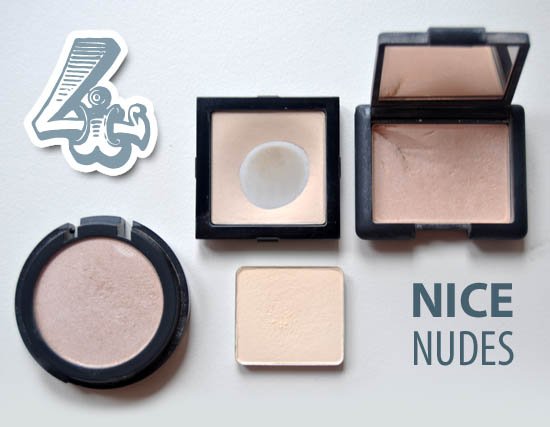 Base matters, eh? When I do my eye makeup I always apply a neutral (to my skintone) eye shadow first. Why? Cos for starts it helps to take out any remaining little bits of redness or uneven skintone I may have missed when I was applying my foundation (quite likely, I'm none too careful first thing in the morning, me) and secondly, it gives the next shadow I apply something to be more easily blended into.
As an aside, this differs from using say an eyeshadow primer like Urban Decay's Primer Potion - I tend to keep those big guns for night - the creamy shadow thang would be more of a daytime tip for me.
Yup, putting a base colour on first does make blending easier - give it a go if you don't already do this and you'll see what I mean. Because I'm Celtic skintoned, I go for ivory and creamy-champagne colours, so obviously you adjust the shades to suit your particular colouring.
As a reference, for an Irish person, I'd be fairly averagely-milk bottled. I'm about a MAC NW15-20, so I'm not *quite* on the Sudocreme register and I can definitely find foundation products to buy from the majority of department store brands. Cheaper ranges pose more of a challenge - and for a lot of us here - but Bourjois usually comes through for me. With that in mind, these four shades suit my coloring well and look natural, nude and pretty much invisible on (and to) the eye - which is just the way I want it.
Bobbi Brown eyeshadow in Bone, €22
Clearly, I like this one a lot. I used this daily for a couple of years and it's just an excellent basic. Matte, but very smooth, easy to apply and blend - which can be hard to get in a matte shadow
Nars single eyeshadow in Abyssinia, €24
Love this. This has been knocking about my kit since I worked at Image and in fact the reason there's a chunk taken out of the top left is because it was shot for the magazine - I lifted out a piece to 'crumble', it was photographed and cos it was such a nice colour I couldn't bear to bin it, so took it home, forgot about it and when I found it again recently began to use it regularly. It's a lovely warm cream and the finish is satin. Excellent quality too - but you expect that from Nars
Make Up Store Microshadow in Muffin, €14.50
This is another satin finished shadow and I find myself using them a lot more than mattes recently. As you can see, the pan size is massive here - Make Up Store shadows are really good value for money and while the pigmentation can differ in payoff terms, they always tend to feel very nice. I don't want a huge amount of payoff from a base colour, so it's not an issue here. This base is best kept for layering other shimmery shadows over, as it's quite shimmery itself
Inglot matte eyeshadow in 351, €10 (I think!)
This is the least lovely of the bunch - Inglot shadows can be fairly powdery and this one is no exception. There's a bit of a yellow tone to it as well but as a well-priced basic it's fine, just tap off the excess and you're good to go.  If you include it as part of one of the excellent-value Freedom palettes they sell, you'll get along grand with this
Advertised
So, wanna see some swatches?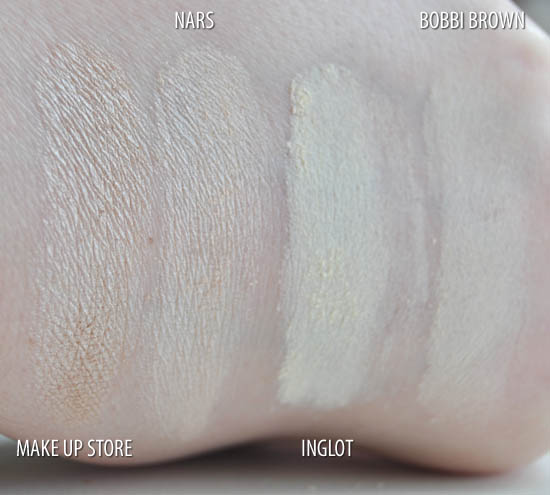 Obviously, there are lots of other brands who make neutral shadows - these are just four I had to hand. If you want to go cheaper, have a jaunt around the Rimmel, Maybelline, 17 and Natural Collection stands and if you have Urban Decay's Naked Palette, Virgin and Sin are decent base colours too.  Of course, for the King and Queen of low-priced bits and bobs, both Essence and Catrice will not let you down.
What's your top pick for a good base eyeshadow? Leave us a comment and let us know!