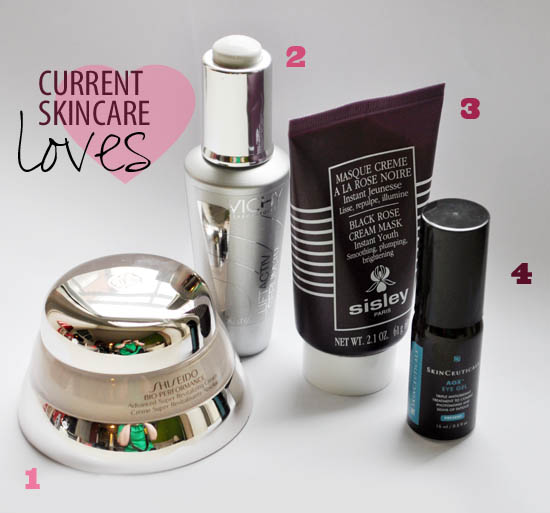 A month or ago I was absolutely bemoaning the utterly unbuttery state of my skin: post-Christmas it was a dry, barren wasteland on which no makeup looked good and no smile could improve. Something needed to be done. STAT. I told you I'd update as and when I'd found some bits that made a difference, and hey, here we are!
I've never met a Shiseido moisturiser I didn't like and this new one, Bio Performance Advanced Super Revitalizing Cream, €88, is divine. It looks a bit like a Tardis too, and that scores it points in my book. It's got a silky, fine texture that seems to transfer to an oil on the skin, it is incredibly hydrating and can be used day and night.  Plus, it gives a beautiful base for makeup and I've just found that me and it have taken to each other like ducks to water. While this one came to me for testing free gratis, honestly? I would repurchase
Vichy's LiftActiv Serum 10, €34, came out last autumn as the next roll out in the LiftActiv line. I'd been over to Paris for the launch of the day and night creams last year and the unveiling of the use of rhamnose as an ingredient and knew this'd likely be a great product, but it took me ages to get to trial my sample because I was using up other stuff at the time. Whaddya know? It is great. Hyaluronic acid makes it very good for a dry skin that needs an instant boost and the high concentration of rhamnose - 10% - means this is a real hard worker and a good serum for anyone who's looking for a first step to add hydration and fight lines and wrinkles. And I think the price is very good too. Now, I threw out the box and can't swear to this, but it does have a siliconey feel to it and I wouldn't be surprised if it did include it as an ingredient as it's such an immediate cosmetic-effect skin smoother. I mention it because I personally have no problem with it but know lots of you like to avoid it as an ingredient.
Basically, both of these products are what I would mostly give credit to for the turnaround on my dry, ravaged and textured skin, and they did in about a week. I've been supplementing them with a couple of other bits I've also been impressed with:
Advertised
I like masques as a concept, but am rarely impressed with them.  I want to see a visible result and all too often, you just don't. One brand which does deliver is Sisley - and it would want to actually, as the price sticker on the Black Rose Cream Masque is €101. Yes! One hundred and one Euro! (No, I didn't buy it)  I have a variety of Sisley's other masques like the eye contour offering, the radiant glow masque and the express flower gel one and love them all, because they all do something. Kinda crucial, I think you will agree. This smells lovely and is super-hydrating, has lots of bonkers-sounding ingredients like extract of great mullein, alkekengi calyx, chlorella and phytosqualane plus essential oils AND I'VE GOT IT ON RIGHT NOW, BITCHES. As I type. Uh huh, that's right
Skinceuticals AOX+ Eye Gel is another whopper of a price at €79 but if there's one thing I know about this appliance-of-science L'Oreal owned brand, it's that it performs. It's important to note that this serum/cream is not marketed as an all-singing, all-dancing, fixes all issues offering. Nope: one pump, once a day does both eyes and this is specifically formulated to combat photoageing (which it does using a Skinceuts favourite ingredient, high octane Vitamin C) and signs of fatigue. This is for me because I don't have issues with puffiness or dark circles but I have had pigmentation blasted off my eye area with a laser in the past and want to keep it in check, and I am concerned about looking knackered - I rarely get enough sleep.  I like the antioxidant approach of this brand and am liking this a lot too. It is pricey, yes, but it is also a preventative product so you can argue that €79 every three-to-four months isn't such a bad spend really
That's what's currently floating my serum/moisturiser/eye cream/masque boat; what about you? What are you loving right now?