 Our staple is the Parlux, and we had to have the Dyson Supersonic when it came out. But the LanaiBLO blows both out of the water.
Whether it's every day or once a week, nobody wants to spend hours blow-drying their hair. Finding a hairdryer that works fast and efficiently is vital to our busy daily lives.
Growing up, I always had thick, wavy hair, which was on the greasy side. Because these were the days before dry shampoo, this meant washing it daily or every second day. Such a pain; it literally took an hour. That's seven hours a week just blowdrying my hair!
Since then, I have been on the hunt for the holy grail of hair dryers. My mission was to find the creme de la creme.
Now, bets are, you've heard of the Dyson Supersonic. It was released last year to massive fanfare, promising to change the way we think about hair drying. It also came with a pretty hefty price tag. But a revolutionary beauty tool is worth €400, right?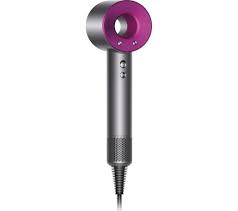 Advertised
When I heard about it, I knew I had to have it. I mean, if their vacuum cleaners were anything to go by, I had extremely high hopes. The dryer promised faster drying time and a quiet experience (this part was a driving force for my husband who hates the sound of the dryer). It's also supposed to be less damaging to your hair.
What I liked about it was how light it is and that there is no fan in the back. Yes, there have been times I have managed to get my hair stuck in the back of hairdryers. It actually happened twice, resulting in me having to cut my hair out of the back of the hairdryer. But that is a whole other story. The dryer is not silent. It's not as loud as other hairdryers, but it's by no means soundless.
Before the Dyson, I had been using a professional hair salon dryer - the Parlux - for years and found the power of the Parlux to be much greater than the Dyson. The heat of the Dyson wasn't as hot as it could be, in my opinion, and it left my hair a bit fuzzy, to be honest. I do feel, however, that if your hair wasn't used to a hotter setting and you were just using any old hairdryer, the Dyson would make a difference to your hair.
I also felt it was a different type of dry, as in dryer than usual, almost like the moisture was gone from my hair. This is good in a way because as I mentioned I have oily hair, so I didn't have to wash it as often, but I did need to put some serum in the ends to stop my mane looking dried out. Is it worth €400? I'll let you be the judge of that.
Last week, I was introduced to the LanaiBLO, the brainchild of Irish entrepreneur Katie Jane Goldin.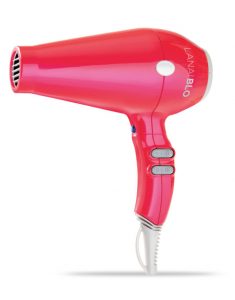 The LanaiBLO Professional €99.99
First off, the power in this is excellent. The heat is right up there with the Parlux. Actually, it put my eight-year-old Parlux to shame. (But it was probably time for a new one anyway.)  Like most salon type hair dryers, the LanaiBLO is slightly on the heavy side, but you get used to that in no time. If your hair is difficult hair to straighten, then this hair dryer should be top of your Christmas Wish List. Use it with a good quality brush and it doubles up as a straightener as the power and heat are that good.
Advertised
For €99.99 you couldn't get a better deal in my opinion.