 You know when your skin has been exposed to the elements a little too much and it's generally in bits? This Image Biomolecular Hydrating Recovery Mask will get it back to normal.
Image skincare has an already stellar reputation with an impressive Irish celebrity fan base with Pippa O'Connor, Tara O'Farrell and Vogue Williams having spoken about the products in the past. I am always excited to try new products from this brand because they have never disappointed me before.
When it comes to sheet masks, in general, I am not a fan for no other reason than I don't find them very practical or enjoyable. It's just my personal feeling. I find them uncomfortable and I can't stop touching and smoothing them for the whole duration of the mask. This one, however, is worth every minute.
I loved how my skin looked and felt immediately after the mask. No redness, no dryness. It's like an instant-result hydrating facial that manages to even out your skin tone at the same time. When your skin has been literally weather-beaten - as our skin has been lately due to the harsh weather conditions - it will generally become dehydrated. Freezing weather and central heating suck all the moisture out of our skin.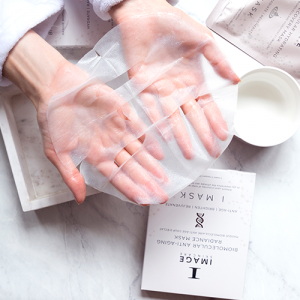 Advertised
I sat with this mask on for 25 minutes (I can't last in a sheet mask for any longer) while I watched a movie. I felt like a freak with the jelly like sheet on and I pulled at it and fixed it and smoothed it for the whole time. But it was worth the repaired skin afterwards.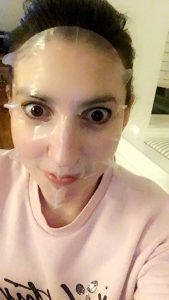 Here I am waiting on post-mask skin perfection
How it works
The breathable mask has a unique design that traps in moisture and active ingredients to ensure optimal anti-aging and hydrating benefits. This is suitable for all skin types. The hydrogel mask infuses skin with volcanic water, brightening botanicals, peptides and antioxidants to give you instant radiance. It immediately hydrates, reduces fine lines and wrinkles and brightens your skin. They say to use it two or three times a week. If you can afford to, I would certainly recommend it.
Advertised
For more mask talk, Sarah tried one from Skyn Iceland yesterday and was trés impressed.