 Paid partnership with No7
Last month we went on the hunt for beauty enthusiasts to trial an exciting new product for us. We asked three Beaut readers to try No7 Advanced Retinol 1.5% Complex Night Concentrate. Each of the readers used No7 Advanced Retinol 1.5% Complex Night Concentrate for four weeks and told us all about their experience!
We asked our three readers to introduce themselves, tell us a little bit about their skin and skincare routine, and then tell us how they got while trying the product over the past four weeks!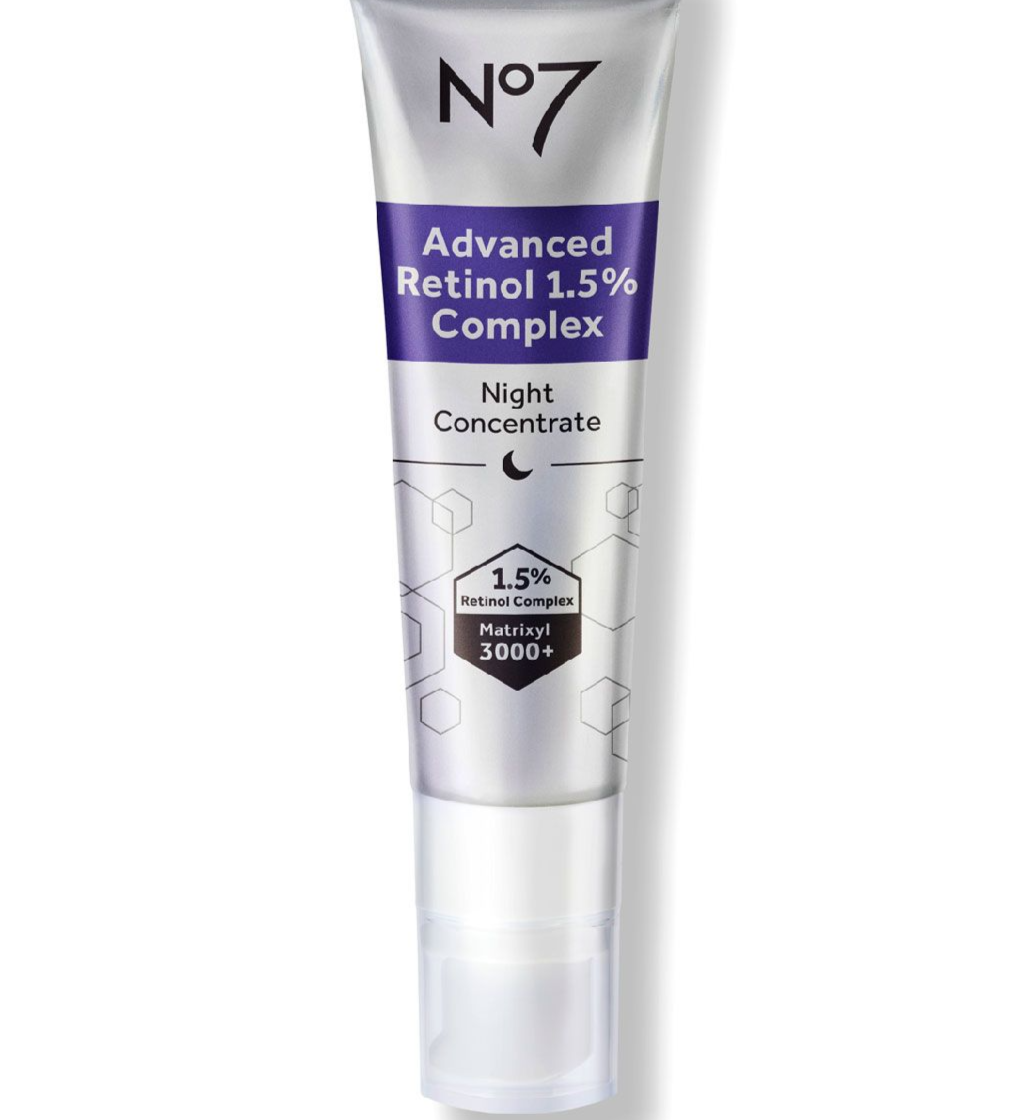 Here's what they had to say!
Karen
My name is Karen and  I'm 41. My skincare routine consists of hot flannel cleansing morning and evening, hyaluronic serum, vitamin C moisturiser, eye cream and daily SPF30. Over the last 12 months my main area of concern was dull, congested skin and fine lines caused by dehydration. I have been looking to try a retinol based product for some time but have been nervous about sensitivity, striping, flaky skin, etc. So when I was offered a chance to try and test No. 7's  Retinol 1.5% Complex Night Concentrate, I decided to give it a go.

For the first week, I used it twice as directed. After washing my face, I allowed my skin to dry for 10 minutes before applying the concentrate. I experienced no tingling sensation or redness after a further 10 minutes I applied my regular vitamin c moisturiser and went to bed. In the morning I cleansed my face as directed applied my serum, eye cream and SPF30 before a light covering of BB cream. My skin felt fresh, tight and glowing with no redness. I left a day in between applications and applied the concentrate after cleansing again on day 3, again following my usual night-time routine after.

This time I felt a slight tingling after I applied moisturiser. The next day my skin felt really clean, with a little redness on my cheeks. No flaking as of yet.

After the second application, my skin started to flake around the cheek area and forehead, as a result, I only used the concentrate once this week leaving four days between applications. I continued with my normal skincare routine morning and evening. After applying the concentrate as part of my night-time routine, I applied a Hyaluronic serum and went to bed.

In the morning, I cleansed my face as directed, applied my serum, eye cream and SPF30 before a light covering of BB cream. My skin felt tight with slight redness, but no more flaking. The next two days the flaking improved and by the third day, all redness and flaking had gone, leaving my skin feeling fresh and glowy. I am building up usage slowly because of this, applying every four to five days for now.

I am continuing to use the concentrate twice weekly, leaving 4 to 5 days between applications and the following night. I'm using a hydrating Vitamin C face mask overnight. The texture and tone have improved, there is a small amount of flaking on my forehead between the brows and on my cheeks. I find face masks are helping this, overall, my skin feels cleaner and looks brighter. I think retinol usage should suit your skin type. For me, I experienced some sensitivity, and have done in the past with non-retinol-based products.

I will definitely continue to incorporate No. 7's Retinol 1.5% Complex Night Concentrate into my skincare routine, but no more than twice weekly. I can see the benefits of this product on my skin in terms of the improved texture (minus the flaking) and my skin tone appears more even.
Advertised
Sarah
Hi, my name is Sarah. I'm 25 years old. I am not currently using any anti-ageing skincare products, so I have decided now is the time to start.  I wanted to try No7 as it is less expensive than some other retinols.

As the instructions stated, I waited 10 minutes after washing my face to apply the retinol. I felt nice on the skin, no irritation.  This product states it contains a retinol soother which sounds interesting as I know it takes time for the skin to get used to retinol. I plan to use the retinol 2 - 3 times a week at first and slowly build up as I have dehydrated skin. I used a lot of moisturisers last night after applying the retinol, and there had been no skin peeling as of yet.

I've been using the retinol cream twice weekly for the past two weeks. My skin became dry and flaked around my chin, but this is where I also become dry when using actives. I started to use moisturiser before and after applying the retinol which resolved the issue.

This is a thick cream and feels nice on the skin. I have used it 2-3 times weekly and my skin has had no reactions. Too early to see any changes yet, but I have experienced no additional breakouts since using the retinol.

I will continue to use this retinol as it is easy to incorporate into my skincare routine 2 -3 nights a week. I will also increase my usage to every night over the next two weeks.
Jennifer
My name is Jennifer, and I am 33. Before lockdown, I never really worried about my skin. I had a general skincare routine of cleanser, glycolic acid toner, hyaluronic acid and moisturizer. Brand wise - I tend to switch between what is on offer or what I might receive as gifts or samples.

I'll admit to skipping my skincare routine on plenty of nights when I was tired (or had been out) and just wanted to sleep instead. It never really had any adverse side effects though and people often remarked on how clear my skin was. However, lockdown stress, eating and inactivity have resulted in maskne (spots building up due to mask wearing) and a dullness to my skin that I never suffered with before. I am looking forward to trying out the No7 retinol serum.

I have used the No7 Retinol now consistently for the past few weeks and have increased my use to every second night (as per instructions on the box). I haven't had any reactions or irritation, and it is actually quite nice to put on. It is light enough to incorporate into my skincare routine without feeling as though I have too many layers on, and it absorbs quickly so it hasn't added much time to my routine. I notice that the skin on my forehead is looking much more vibrant and clearer, and the texture of my skin has improved dramatically.

The Night Concentrate has greatly improved the texture of my skin and has given me back my lockdown depleted glow. My skin looks fresher, healthier, and I am much happier with how it looks in Zoom calls. I use it now about three times a week and it is a very helpful addition to my skincare routine. I will definitely repurchase this as needed and keep using it is a permanent addition to my beauty routine.
Beaut.ie reader reviewers received a free package of No.7's Retinol 1.5% Complex Night Concentrate to participate in this review which took place over a four-week period. All views presented remain their own.
No7 Advanced Retinol 1.5% Complex Night Concentrate is available online from Boots.ie. 
Advertised