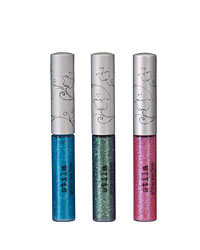 I'm an absolute divil for a bit of glitter or sparkle, and am about 400% more likely to purchase something if it's adorned with sequins or jewels of some description, winking away at me under the shop lights. My current work environment, however, is not exactly a glitter-friendly one (who knew Finance could be so feckin' un-fabulous, ha?) so I have to be a bit shneaky and subtle about expressing my inner magpie.
There are tons of sparkle-tastic eyeliners available to suit all budgets, but my current favourite is Stila's Glitter Eye Liner in 'Purple Silver'. This is a product that I wear a lot in the office. Not all over the lid, now; just atop a flicked-out line of purple or navy liquid liner. The reason I love this Stila liner in particular, apart from the obvious bling appeal, is that the glitter particles are very subtle: weeny, tiny shimmery flecks rather than the great honking lumps of mica some other brands seem to favour.
Oh, and it has bloody brilliant staying power* so no fear of stray sparkles landing on cheekbones!
Advertised
* 15 hours, as tested at Electric Picnic on Saturday!