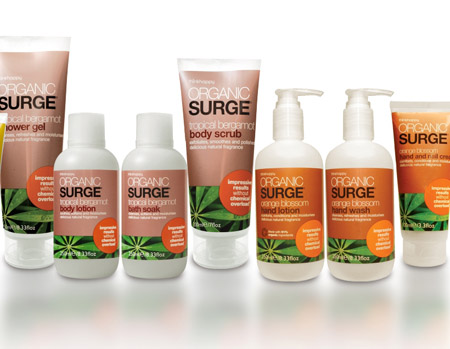 Now, we've written about the bauld Organic Surge before - Aphrodite waxed lyrical about their Tropical Bergamot shower gel recently - and she's not the only fabillis person to rate it: Gok Wan reckons that their Tropical Bergamot body lotion is the bees knees too, as it was voted best organic moisturiser on How to Look Good Naked.
I met the man behind the brand, Alan McKenzie, a couple of weeks ago and got a bit more insider info. As the name suggests, the range uses organic ingredients, but it's not actually certified itself. I'd personally like that distinction to be a bit clearer considering the name chosen, but I certainly applaud Alan for his dedication to creating chemical-free products that are very affordable - prices range from €7.49-€10.49. "I didn't understand why I couldn't buy a natural skincare range in my local supermarket at an affordable price",  he said, so he decided to create his own bath and body line. A background in interior design helped with the aesthetics,  and his commitment to using quality ingredients has ensured that all the products are between 95-99% natural. What's more is that Alan is giving something back: a percentage of profits goes to creating educational scholarships in schools in Kenya and Uganda. Well played.
Advertised
So, where to buy? Boots Liffey Valley, Clerys, Dunnes, Hickeys, McCabes and Unicare pharmacies. You'll also find it in independent pharmacies nationwide.