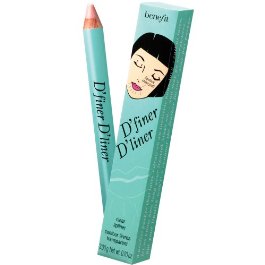 Lipstick is something I don't wear very often, but on the odd occassion that I do throw it on I like to go for a really bold, dramatic hue. Cue lots and lots of colour bleed outside the lip line, sigh! It looks like Benefit's D'finer D'liner, part of my Christmas pressie from the little sis, might save me from all that. (Thanks Lisa!)
Slightly waxy in texture, this is a lipliner with a difference: you actually use it around the outside of the lips rather than the inside to create an invisible barrier to keep lip colour in place. It's a nude beige pencil that goes on clear, and I put it through its paces with a poutful of MAC Red, which is a very vivid, bright, blue-y red that usually ends up somewhere around my nose and chin shortly after application.
Well, I am happy to report that D'finer D'liner does what it says on the tin. It definitely kept my lipstick from feathering into any wee creases around the mouth, and really helps to keep the line of the lipstick crisp - even after eating and drinking. Plus one colour fits all, so no need to have multiple pencils to go with all your lipsticks!
Advertised
D'finer D'liner is $20 direct from benefitcosmetics.com