 When I was a girl, walking to school with no shoes on and fetching water from a well 12 miles away and all that, we got craft sets for Christmas. No Elsa dolls for us! We didn't even know who Elsa was. My sister and I loved trying out weaving and making sand decoration things and designing our own fancy paper.
When the Lacura Beaded Nail Art Sets arrived in Beaut HQ that old make 'n' do feeling came flooding back. We discussed the new additions to Aldi's Specialbuy Range last week but the product only came to us today. The excitement! Just like a little girl at Christmas who likes to save Christmas paper and packaging (and luckily I did but more about that later) I carefully opened the boxes and then went to town.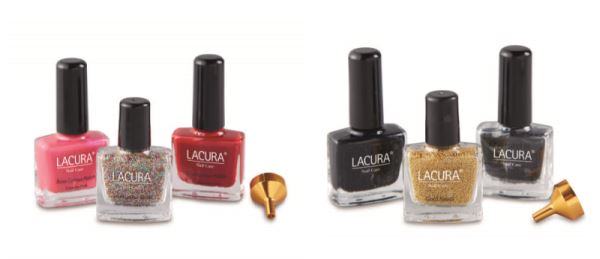 How brilliant that I got BOTH sets! I would have been happy enough with the black and gold version but guess what? I preferred the pink/red/candy beads kit.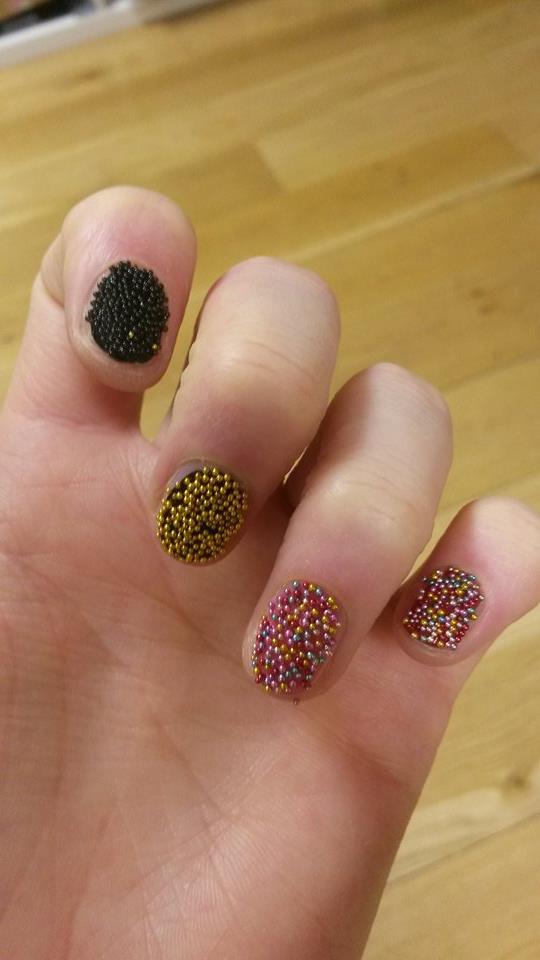 The first nail I attempted (black polish/black beads) was the one I wanted the most on my nails and I ruined it by trying to put both coloured beads on one nail. FYI you can't do this. Well you can but only if you mix them together before hand and I just don't have that kind of time, dammit! So as you can see I have two rogue gold beads embedded and it's just not a good look.
Advertised
The process is easier than simple. All you do is paint your nail with the special base colour (in the Jewel In Beads set there is one black base colour and two sets of beads, gold and black) and then pour the beads on top! Press them in if you want to and then wait 10-15 mins for them to dry completely. After that, ta-da! 3D nails.
The Rainbow In Beads set has two base colours (red and pink) and multi-coloured beads. Of course I tried both base colours and liked them both, much to my surprise. I like dark things in general - in life and in beauty - but I am going to do my nails completely in the red base and candy beads for a pop of pep.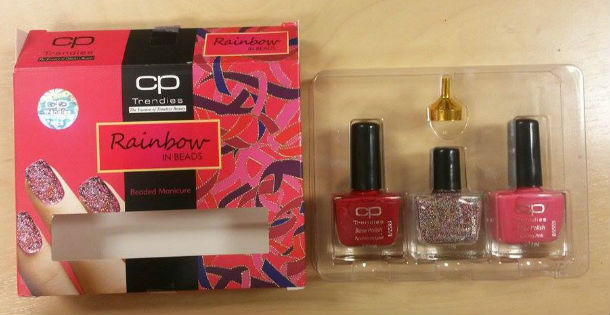 They say to hold on to the beautiful packaging so that you can use the plastic part as a tray to hold any excess beads that you can funnel back into the bead jar (a nice touch actually - waste not want not!) but I would find another receptacle. The plastic tray makes the beads go all space-age and they end up hopping all over the place - fun to watch but not great for funneling.
Both sets cost €4.99 which we think is great value for a set like this. Ok, so the packaging is a tad old fashioned but nail varnishing and beading so easy to do and the results are impressive. These went on shelves on November 20th so pop in quick if you want to get your mitts on one these sets!
Advertised
Would you add this to your sticking filler list? Will you ditch the professional nail art session and give this a go? Let us know!