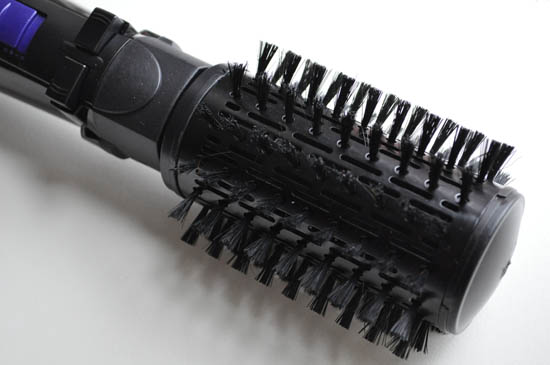 I know, I know.
I'm breakin' all my own rules here; we never normally review a product more than once in general but both myself and Aisling had bought ourselves Babyliss Big Hairs pre-Christmas and while she'd used and reviewed hers, mine was still languishing, security seals intact, under a bathroom cabinet until last weekend. Oh so that was €69 extremely well spent ...
See, I just can't really summon up much enthusiasm for hair: probably, mainly, because mine is crap and hard to manage, so I wear it up mostly and try to avoid a lot of heat lest it crisp up further. Of course the Big Hair purchase was meant to help with sleeking it down, but time is never on my side. Anyway, last weekend, I girded my heat-styling loins, took that mother out of its box and plugged it in.
And boy howdy, whaddya know!? It's great!  Ok, it's not perfect - you have to depress the buttons that spin the brush barrel in either direction and hold them down to keep it spinning and that's a pain. It just contributes to the arm ache of blowdrying. I'd far rather there was a setting that left them on - but I can appreciate this might be a non-tangly safety feature. It did mean my arms felt like they were going to burn up and fall off by the end, though.
Advertised
So, what's the net result? Gladly it is not a Sile Seoige-style helmet head of large, extremely coiffed hair. Nor is it a salon blow dry. Instead, it's just a really good mostly smooth finish that I personally can't achieve at home normally - I don't have a) patience, b) lots of barrel brushes and c) extra patience so the fact this does it for you is great. You can get a bit of lift in at the roots too - but using some product like a volumising mousse will help further with that.
Anyway, I was able to wear my hair down twice last weekend and it's the first time in months I've done that. So - bravo Babyliss Big Hair. I salute you.
Now lets just hope it isn't another four months before you make another appearance out from beneath the cabinet, eh?