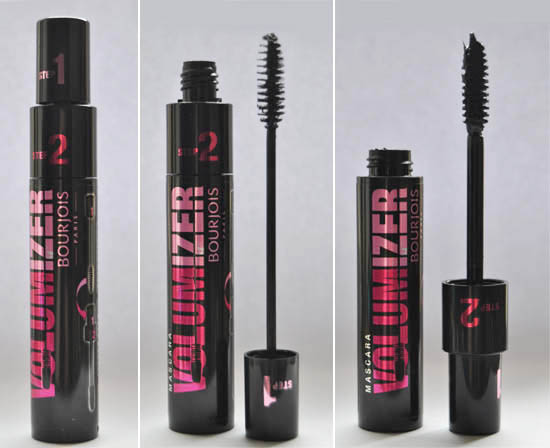 I met with Bourjois a few weeks ago and got the gen on all the new season releases: we've already had a gander at the gorgeous Gris Cashmere nail polish and that lovely white gold liner but there's a lot more goodness incoming too. Like this doofer, for example.
You're looking at Volumizer Mascara, €15.99. It's arriving on counters round about now and it's the brand's new two-step product designed to deliver volume and then oh, some more volume.
So, how does it work?
Like Rimmel's 1-2-3 Looks Mascara, this deposits more or less mascara on the brush depending on which step you're using. Volumizer Mascara has in effect, two caps. Where 1-2-3 Looks relies on widening or narrowing an aperture in the top of the tube to add more or less mascara to the brush, this one involves one wand fitting inside the other to limit the amount of product dispensed at each step.
Unscrew the top cap, or Step 1, and out pops the brush lightly coated with gunk. This is the 'defining' step. Then screw it back down, open the second cap, and hey presto! Loads of mascara coats the wand and shortly, your lashes with massive volume.
Confused yet? Here's the clincher: there might be two wands, but there's only one brush.
Advertised
Let me explain: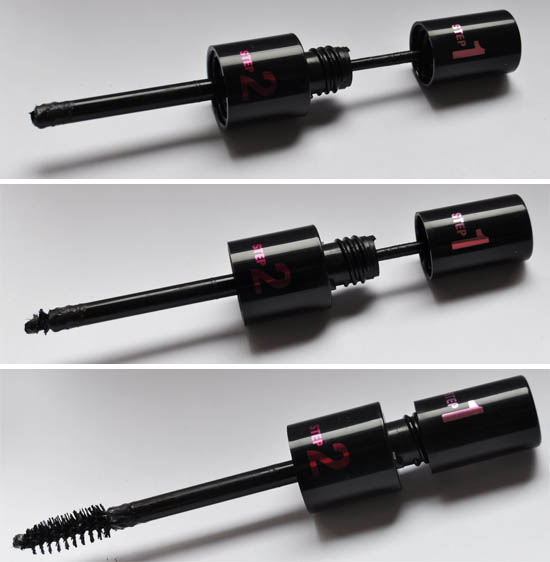 See! The skinny wand fits inside the fatter wand, and the amount of mascara is controlled by the width of the fatter tube - as the Step 1 wand rises through the tube, all the mascara falls off the end; but when you get to step 2, there's nothing stopping it from coating the brush liberally.
I took this to Electric Picnic with me to see if it lived up to its claim for massive volume  - after all, a festival is pretty much the best place to check out OTT makeup items, eh?  So, does it work? It does actually, twisty wandy gimmicks notwithstanding.  I mean, lashing on 90 coats of mascara will give you terrifyingly-dubious-XFactor-contestant-Chloe-Victoria-lashes if you keep at it no matter how many wands you widen or narrow, but this promises no clumps, and it with a bit of care, it delivers.
Step 1 doesn't do much, but gives you a regular day-type finish. Step 2 then loads the stuff on and it really does add immediate volume and lots of it. Wiping the wand a little before you apply is advised, I think. You definitely do get loads of fattening without the spider's legs effect if you do that, and yeah, it's pretty OTT, but then, that's what this is designed to do. As a bonus, there are ceramides in here to nourish and it doesn't do that horrible transform to crunchy crispiness that mascara often does. It stayed where it was put, too.
Advertised
Any downsides? If you don't go for a gimmick this'll probably drive you batty and because it lashes (ha!) so much product on it takes ages to get it all back off again. Normal cleanser handles it fine, but you're just wiping ... and wiping ... and wiping. I destroyed a couple of muslin cloths trying to get it back off, so in future this is one for cotton pads and Lancome Bi Facil or Johnson's Daily Essentials Gentle Eye Makeup Remover.