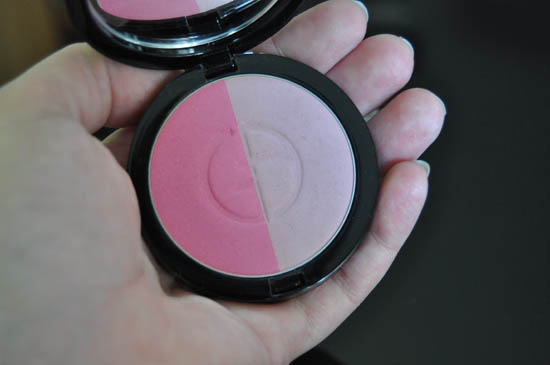 You lot didn't think much of my Illamasqua navy lip look last week - "slug-like" and "ageing" were but two comments (sob) - but you did have some love for my liner (also Illamasqua) and blusher, which I am happy to report is from the launching-on-the-15th-September Giorgio Armani Night Shades collection.
It's Blush Duo, a two-shade product that's actually great for a pasty pale skintone. Pale pink and raspberry, both nicely cool-toned, are housed in signature glossy black compact. The damage here is  €40, which is of course hefty for a blusher.  If you're on an Essence budget then this won't be for you - but if you do like to spend a little more, then this comes highly recommended from me.
Silky-smooth, sheer and buildable, mine's been getting a good bit of love, as you can see from the worn GA embossing in the powder. In a way to help justify the cost, let me tell you that this is a really big old product.
Don't believe me?
Advertised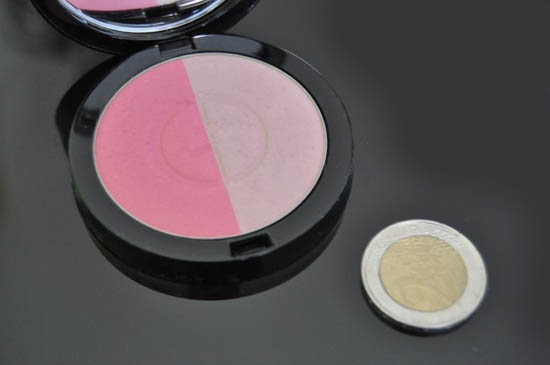 See it there beside a €2 coin? TRUTH!
You get 8.5g in this which is considerably bigger than a Mac one at 6g, for example - though of course it's much more expensive.  But the fact that this is so massive means you'll get a long time out of it.
My attempts to do a swatch failed miserably so if you'd like to see how this looks on the skin, head over to that aforementioned Illamasqua post for an auld goo.