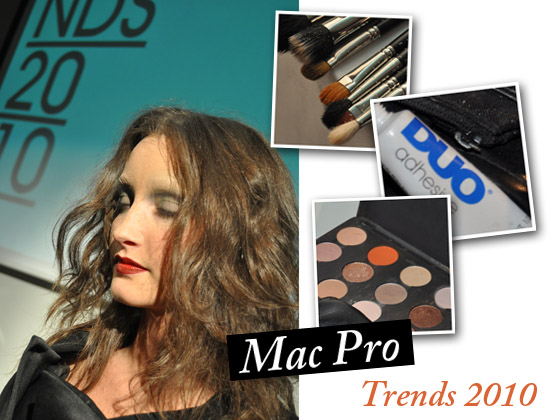 It's looking like Mac week on Beaut.ie - at the weekend I got down with the brand at Electric Picnic and last night me and my camera hopped along to the Morgan Hotel for the Irish Film and Television Academy's Autumn/Winter 2010 Mac Pro masterclass. Senior Irish artist Lesley Keane - who we've met before on Beaut.ie - and UK pro Neil Young (no, not that Neil Young, I believe his makeup skills ain't quite Cortez the killer) walked us through the trends and then threw a little slap on some glamazonian models for good measure.
Masterclasses are primarily for invited makeup artists and beauty pros to give them an overview on what's hot for the season, but a few beauty journos were also asked to attend, and hey, it'd have been rude to decline, right? Plus, I love me a good demo.
The duo talked about four main beauty takes for '10: we've got Redd Velvet (red's back, of course, but this year any shade goes, from tomato to blackened crimsons, and texture is chameleon-like too); Cashmink (perfect, buffed skin's the thing with almost edible shades of caramel, chocolate and fudge to accentuate); Satin-Eyes (the gamut from edgy liner to lived-in, walk-of-shame smokey) and Voile-Veil (layering sheer textures for an ethereal, ghostly look).
The looks showcased were Redd Velvet, and Satin Eyes. Wanna see the results? As always, they're after the cut.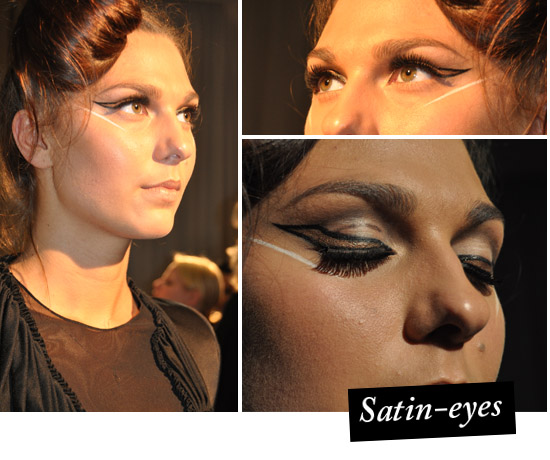 Advertised
Lesley chose to recreate a look seen on the AW10 catwalk at Giambattista Valli, and while it fits into the Satin-eyes trend, it's very much on the structured end of the spectrum. Characterised by a really clean base (she used the new Pro Longwear foundation), the eyes were sharp and graphic and featured a two-step liner: the black line was created using one of the forthcoming acrylics and coloured in with Mulch eyeshadow, with some Mystery eyeshadow in the socket. Lips were patted with a discontinued lipstick shade, Shrimpton. The result? Urban sportswear-edgy, I reckon.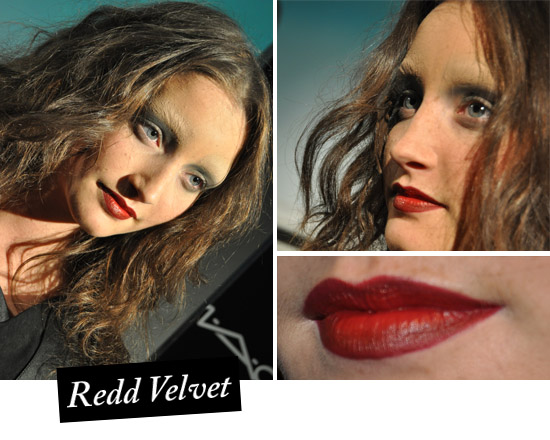 By contrast, Neil's look was much more romantic with a bit of goth thrown in for good measure. He was firm about what he wanted, and the first thing he did was take down the model's brows with a product called Pros-aide, a prosthetic glue. And there was me thinking all the pros used Prittstik to tamp down unruly eyebrows, eh? Once they were tamed, he concealed them with the new Pro Longwear concealer and applied Sculpt foundation lightly to her face.
Lips were the main focus of this look and he began with Russian Red lipstick applied precisely with a brush, before mixing it with Smoulder eye pencil to darken it up; this he then applied on the outer lips and blended in for more depth. Eyes were a soft, super-smoky blend of Plumage and a pro shade, Bottle Green. These were really lightly applied and blended, blended, blended until they were barely there, both above and below the eye and into the socket.
With Neil's face, it was the juxtaposition of the disappearing eyebrows, soft, diffused eye makeup and a sharp lip that made a really nice contrast and was what made this look really stand out.
Advertised
What do you think?  Could you see yourself working either trend?