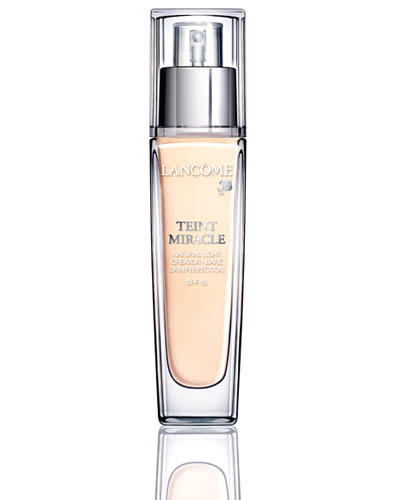 I started off reading the press release from Lancome about their forthcoming Teint Miracle foundation with a steady pulse. I finished it by dashing off a hysterical email to the press office requesting more information. Why? Because this stuff sounds like a bloody marvel, that's why.
We get Important Communikays from brands on a daily basis, proclaiming innovation this and wowsers that, and normally after a poke through the hyperbole, you quickly realise the product is not all that new or different. But Teint Miracle, €35.50, and its companion products, La Base Miracle, €27.50 (a primer) and Touche Miracle Perfecting Concealer Pen, €30, have some really interesting stuff going on in the background.
Ten years in the making, the focus here is on how the skin absorbs and reflects light, and how that process delivers a healthy, youthful glow when skin is young and supple, but which diminishes as skin ages and looses hydration.  Think of a mirror and a field of rocks, and you're getting the idea - one reflects light a lot better, eh? And, say Lancome, as the quality of our skin declines, so does its ability to reflect light off what is now an uneven surface.
Enter Teint Miracle. In eight shades, with SPF15, rose extracts, 40% more water yet 10 times less fillers than traditional foundations, it's got some fancy trickery to fool the eye like bioptic pigments to add luminosity and radiance, as well as something new called Byron. "A silver liquid," say Lancome, it's "five times smaller than the traditional mother of pearl used in all traditional foundations.  It boosts surface reflection of the skin to maximise surface radiance." So, does it actually, y'know, deliver?
Advertised
Thanks to a global trial of 450 women, the brand says yes, indeed it does. 84% of women saw their complexion regain its natural luminosity, 89% saw a perfect skin coverage with a bare skin effect and 90% felt that their skin was hydrated. Lovely results and all, but of course we'll need to try this ourselves to see if it lives up to the press release promise.
And reading between the lines, this is very obviously not a product aimed at a youthful skin. The fact it's designed to mimic young skin, it's got UV protection and lots of hydration as well as what sounds to me like a fairly sheer, natural-looking coverage, all point to a product that the 30-plus age group will get along very well with. Nothing is more ageing than a heavy mask of foundation, so I am very much looking forward to getting my paws on this and giving it a whirl.
Teint Miracle and its companion products will launch exclusively at Brown Thomas on August 1st, going nationwide on September 1st.