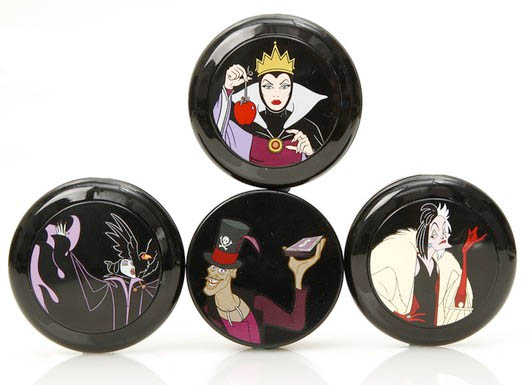 In-coming in the autumn will be yet another kitschy-cartoon-inspired launch from Mac. We've seen Fafi, Barbie, and Hello Kitty from the brand in the last couple of years and it's forging ahead with yet another: Venomous Villains features evil Disney characters like 101 Dalmations' Cruella de Ville, the Evil Queen from Snow White, Sleeping Beauty's Maleficient (my favourite!) and Dr Facilier from The Princess and the Frog.
40 shades will be available across four separate collections for each evil baddy and the pigments'll be based on the Pantone references used by Disney themselves to colour the characters.  Think "offbeat purples, blackened shades and pearlized nails," says WWD.com, of the Maleficient suite, and we can expect more retro-glam colours like peachy cheeks and vampy red lips in the Evil Queen and Cruella collections.
Oddly - what with him being a man and all -  Dr Facilier gets the most interesting-sounding product, Magically Cool Liquid Powders. "This is a featherlight powder that goes on like a mist and either sets or enhances foundation, but also lends dimensionality on naked skin," reports WWD. Right so. And now of course I want it, too.
Advertised
So, is it all too much and too much of the same thing from Mac, or will you be picking up a little something or three from Venomous Villains when it hits stores here?