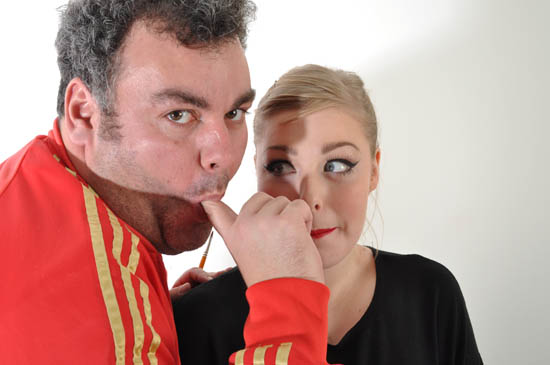 Leonard and Eva mug it up for the camera!
In the last Back to Basics tutorial we looked at curling lashes and applying mascara but for some of us, that's simply not enough in the lash-flattering department.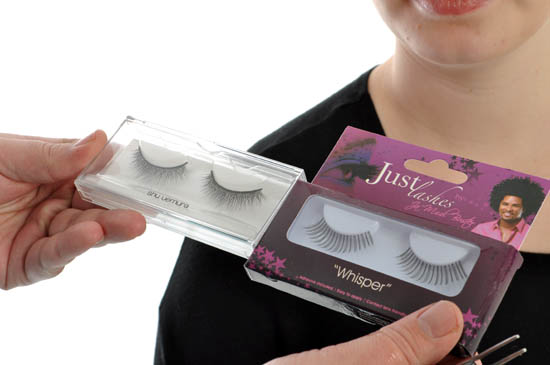 Shu Uemura Smoky Layers and Ja'Maal Buster Whisper lashes
So: falsies. Leonard's gone for a cross-border approach again with a high and low-end solution. One of Eva's eyes is an uptown girl with Shu Uemura lashes (around €18-20) and the other's a down homegirl with some Ja'Maal Busters - which are pretty damn good for the price. Shall we see how best to lash them on?
Psst: Mascara first, says our makeup maestro. "Always do mascara before you put on lashes, always," he instructs.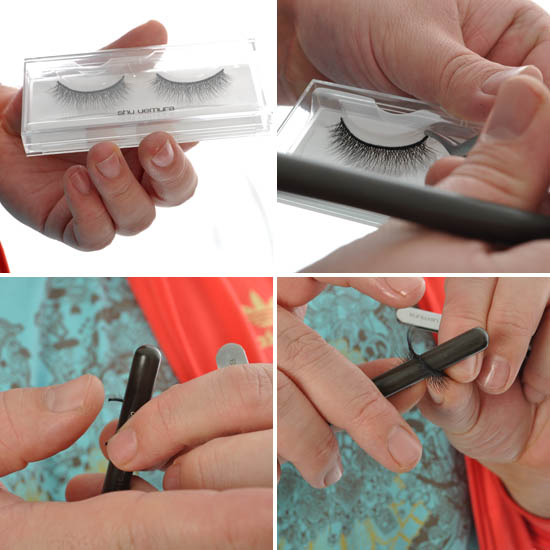 Step 1: Lift off the false lashes with a tweezers - Leonard's using a special lash tool from Shu Uemura here but a regular tweezers is also absolutely fine. Measure them first against the eye - if you need to cut them then trim from the end. His best tip to aid with the easiest and speediest last placement is to wrap lashes around a brush handle first - this helps to make them a bit more flexible and fit against the natural shape of the eye better.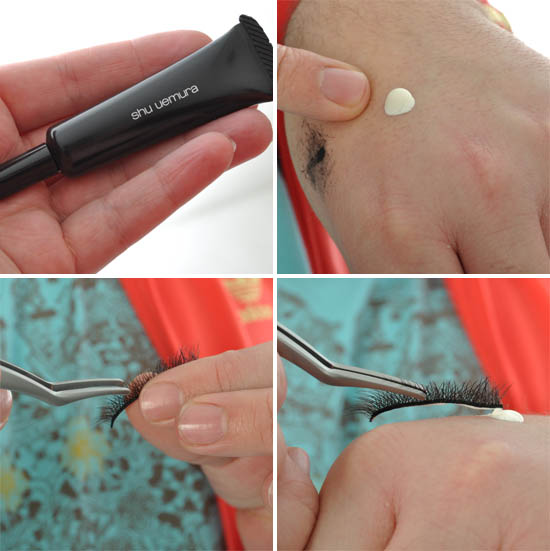 Step 2: Blob a little glue out onto the back of your hand - or an old business card or piece of plastic, it's up to you. Grab the lash with the tweezers again, place one end in the glue and drag it across. Give lashes a shake. Let glue go tacky on the lash for about 30 seconds to a minute.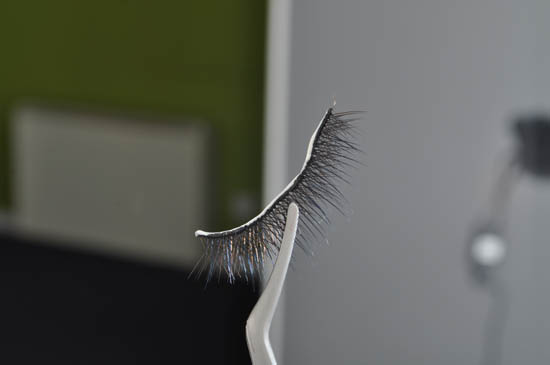 How much glue should you have on your false lash? Answer: this much!
Advertised
Leonard's Top Tip: "Even if you're using cheaper lashes buy better glue. Shu Uemura and Mac both sell good glue, it doesn't have to be Duo necessarily. Dearer glue lasts longer!"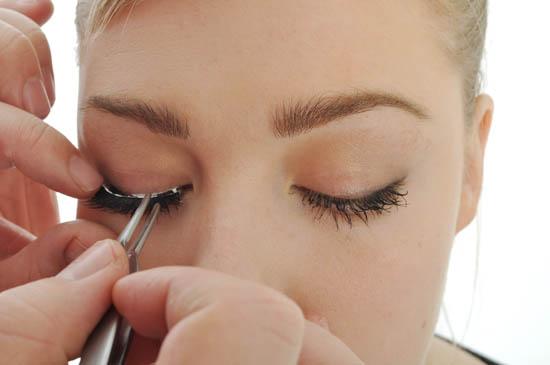 Step 3: Firstly, apply the lashes directly to the eye and rest on top of your own lashes.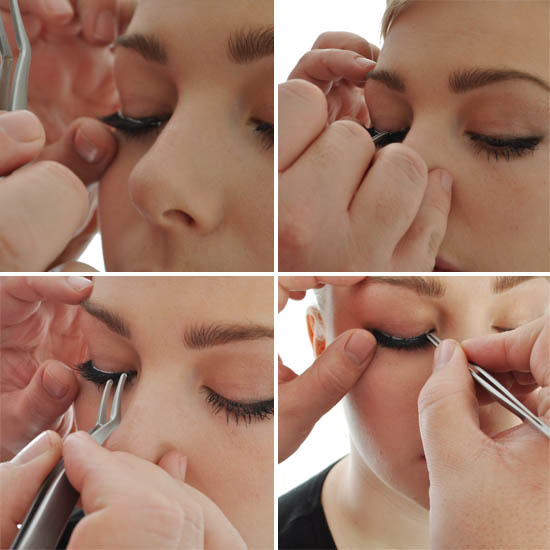 Step 4: Now begin to push them in. "I always push in at the centre first then go to the sides," says Leonard. Use gentle movements, manoeuvering them into place so they sit naturally on top of the lashline but flush with it - the aim is to make sure you don't have a gap between the two.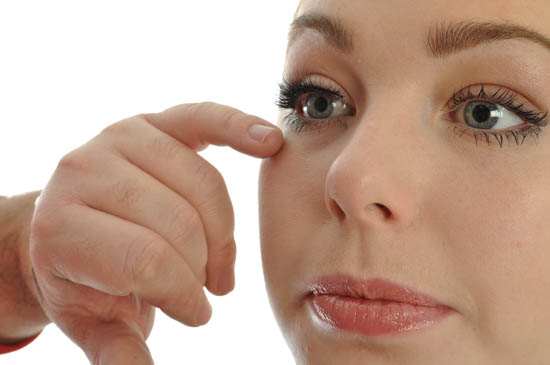 The Shu Uemura Smoky Layers are now in place on Eva's right eye.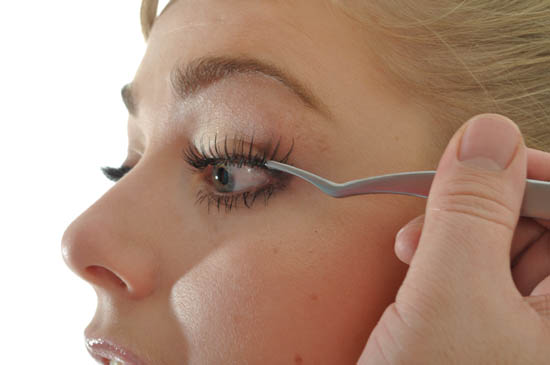 Leonard followed the exact same steps for Eva's left eye, but for he used the cheaper Ja'Maal Buster lashes which cost about €6.95 and which you can pick up at chemists. Unlike the Shu's, these have an invisible band, so deliver a more natural result.
Leonard's Tip: "while the Ja'Maal Buster lashes are cheaper and brilliant for a night out, if you buy lashes from Shu Uemura they're reusable and you can bring them back in to the counter and they'll put them on for you again."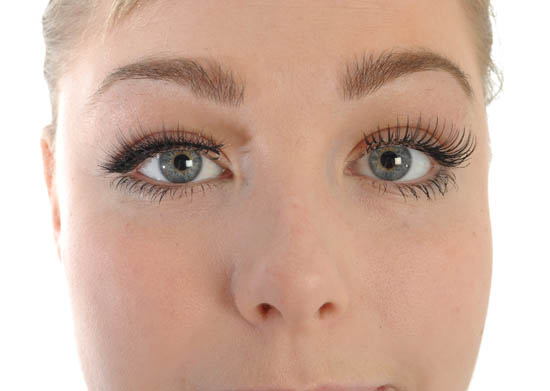 And the finished lashes - Shu Uemura Smoky Layers on the left, Ja'Maal Buster Whispers on the right.
Advertised
Which do you prefer?