 I have to admit that as a makeup artist I am rarely a fan of the whole bare look. So when I got my paws on the new bareMinerals 5-in-1 BB Advanced Performance Cream Eyeshadow (€20), I was tempted to blow a kiss at my glittering eye palettes and tell them I would be back in a jiffy.
But as it turns out, I quite like this product. And if you love the"no makeup"makeup look, then this little fella does exactly what it says on the natural face tin.
Now, let's ignore the BB reference because I've BB up to here. The five benefits in one refers to its promise to prime, brighten, smooth, protect and to give long wear colour. And four out of five ain't bad.
This cream eyeshadow goes on like silk and takes that whole red, vein-y tired look off the eye without looking like you have applied anything. So many clients ask me can they not just use their foundation/concealer on the eyelids, and the answer is no. Why? Because if you have gone for a moisturising foundation and then apply it all over they eyes, you're simply creating a slippy base for your eyeshadow to disappear into those dreaded creases. And the same goes for a matte foundation, it may cause irritation and itchiness round the delicate eye area with its mattifying ingredients.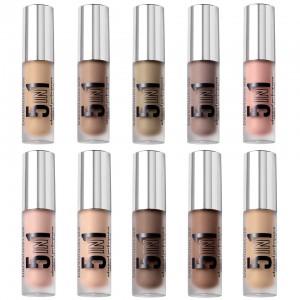 Designed for playing-up eyes, this cream shadow adds a luminous sheen and it provides a smooth base to maximize the intensity and staying power of your eyeshadow. It's been infused with light reflective pigments, and that adds to its barely there look.
Its ideal for this time of year - especially if you are suffering with red irritated eyes from hayfever or sinuses, or you simply don't want to bother with too much makeup during the Summer months. Perfect for putting the washing out if you don't want your handsome neighbour to catch sight of those "Yes, I was on the wine last night" eyes.
There are ten shades:
blushing pink
barely nude
delicate moss
divine wine
elegant taupe
candlelit peach
radiant sand
soft linen
soft shell
sweet spice.
Advertised
The one I tried was 'barely nude' and I loved the colour. And you'll you notice from the photo it just ever so slightly makes the tiny veins on my eyelids disappear and just leaves a really natural hue - great as a base eyeshadow.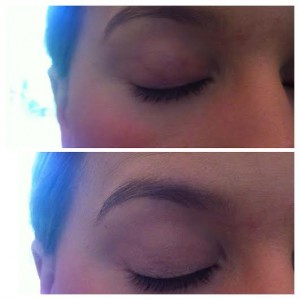 But as far as long wear goes, this didn't impress me much (does Shania Twain swish of the hair).
See, I know my primers as I am the oiliest skinned Irish woman going - I'm only short of squirting talc on my face every few hours. And this my eyeshadow didn't last at all on my oily peepers.
Because of its more luminous and silky properties it would be great for drier eyes who find other eye primers too irritatating and hard to blend. It has fancy built-in skincare ingredients that pamper your lids, instantly smoothing the delicate skin while diminishing the look of fine lines and wrinkles. And it contains a non-chemical, mineral, broad spectrum SPF 15 so it's got you covered with complete UVA and UVB protection.
My verdict? This product is ideal for those who like the natural look, want to be ready in a flash and don't mind a quick reapplication later in the day. And it's properties make it perfect for more mature skins, those who are dry with some pigmentation that they would like to cover up.
Advertised
As for those who want to stay out till dawn rocking a heavy smokey eye, well, like me, your heart will lie elsewhere.
Have you tried this bare Minerals primer? Are you the proud owner of oily skin and if so, what are your holy grail products? And do you still have Shania Twain stuck in your head? Tell us in the comments!