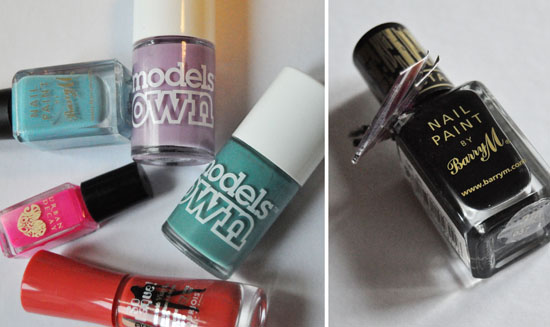 We wrote about Barry M's fantastico new Instant Nail Effects Topcoat last week and if you've been following us on Twitter you'll have seen my increasingly frantic Tweets about my Frodo-into-Mordor-carrying-the-ring-with-Gollum-being-a-bit-of-a-prick-style trek trying to get my hands on a bloody bottle. In fairness, it was an obsession that started with IsaDora's Graffiti Nails topcoat back in the summer, and as I haven't yet managed to bag any of those either, my need ladies, well, my need was great.
Thanks to Twitter though, I got help. One of our delightful followers works in Boots Grafton Street and put a bottle away for me. I legged it down there after work yesterday and bagged myself not one bottle, but three. Watch this space for what we may do with the others ...
Anyway, I'm digressing.  Last night, while watching The Apprentice, I lashed on five varying creme shades - which is why everything looks so wobbly, sorry! - waited for them to dry, and then went to work with the topcoat. You can see my picks above, and on my hands, below. I left my thumb out of this shot, but rest assured it was painted with Urban Decay Woodstock, a fluoro pink.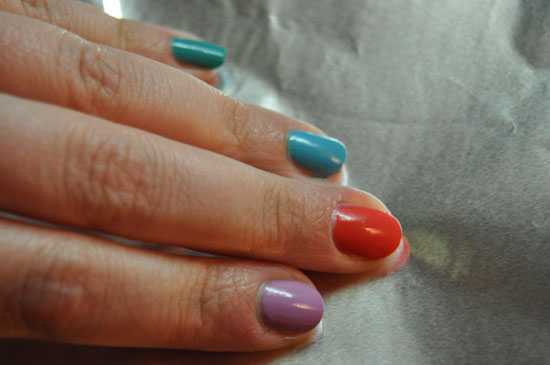 Et voila!
Advertised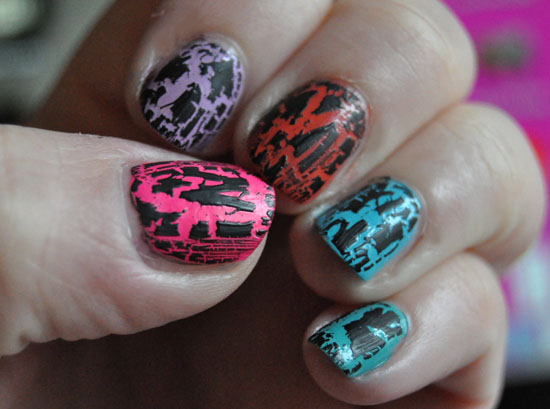 Good eh? Well, I think it's ace. Aphrodite thinks it is vom-tastic and some of our Twitter followers think it's gick on a stick based on my Twitpic last night. To get the effect, you apply the the topcoat as you would any other nail polish and once on, it beings to shrink back and crack, forming the crazy-paving finish you see above.  Minx-alike to my eyes, to others it's just a hot mess.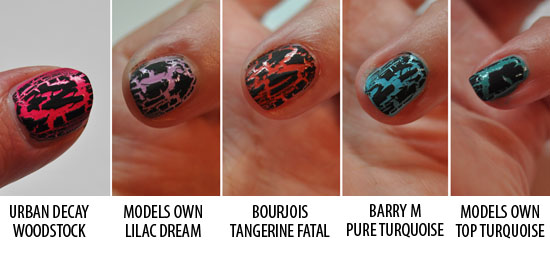 So, for a mere €5.95, I confess myself pleased. It's a cinch to use, is properly transformative and is the eejits way to instant nail art.
As always though, we wanna know what YOU think. What's your favourite shade combination or do you hate the lot? Leave a comment and let us know!