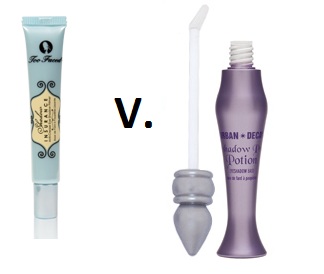 I'm not usually fond of extra steps in the makeup process if I feel they're unnecessary. This is why I don't usually wear a makeup base under foundation and never bother with a base coat under nail polish. With eye shadow, however, I have learned that a good base is a must-have if I want my eye shadow to last all day. Without it, my eye shadow will crease or even wear off completely after a few hours.
I started using Urban Decay's Primer Potion a few years ago and have stuck with it ever since, finding it pretty good at helping my eye makeup to stay put. I recently noticed that Too Faced also makes an eye shadow primer, however, and decided to give it a try. I wanted to give Too Faced's Shadow Insurance a fair comparison against the Urban Decay product, so I used one primer on each eye in order to judge performance. Read on for my findings...

Packaging
Too Faced Shadow Insurance comes in a cute blue squeeze tube. Very handy for carrying around and easy to dispense a small amount of product from the tip without overdoing it. Urban Decay Primer Potion comes in a purple container with a wand applicator. As many have already discovered, the shape of the container means a huge amount of product tends to gather around the widest part of the tube, where the wand can't reach it, so if you didn't want to waste product, you needed to cut the tube open and scrape out the contents. Urban Decay have been promising a response to this problem for quite some time, and what have their crack team of designers come up with? They've... tilted the wand tip so it sits at an angle and will apparently reach that previously unreachable product. A revolutionary approach for sure...
The winner in this round? Shadow Insurance, without a doubt.
Application
On first trying the Shadow Insurance, I found the product seemed to have separated a bit, and a small amount of oil came out of the tube with the primer. However, after giving the tube a shake, and making sure to do this on subsequent uses, this issue has disappeared and hasn't re-occurred. I squeeze the tiniest amount of Shadow Insurance (about the size of a grain of couscous if you need a comparison) onto my fingertip and then blend it onto my eyelid. It blends easily and evens out the surface of my eyelid, without looking like I'm wearing anything. With the Primer Potion, I use the wand to dab a small amount (probably slightly more than with the Shadow Insurance) of the product onto my lid, then blend again with my fingertip. With a small amount of product, my lid also looks clean, even and product-free.
Advertised
No winner here, I don't really have a preference for either based on application.
Applying eye shadow
Next I apply eye shadow with a brush and blend. Application and blending is not negatively affected by either product - the shadow goes on easily and blends nicely. However, when I have finished, I notice that the colour looks that bit stronger on the eye where I have used Shadow Insurance. It's a tiny difference, noticeable only when examined up close.
Shadow Insurance wins out by a tiny margin.
Lasting Power
And so we come to the most important round. I did always notice that Primer Potion kept my eye shadow on longer than using no base at all. It would last a good 4-6 hours, but by the time I took my makeup off in the evening, I usually noticed some creasing at the very least. When I compared it against Shadow Insurance at the same time, I really noticed a big difference. At the end of the day, after about 10 hours of wear, the shadow on my Primer Potion eye has creased and is beginning to wear off in the centre of the eyelid. The Shadow Insurance eye, however, still looks almost perfect. There is a very slight amount of creasing, but the shadow on the lid is still perfect, with no wearing or fading at all.
Shadow Insurance is a clear winner here.
Advertised
Overall result
Too Faced's Shadow Insurance is the clear winner in my experiment and will be a must-have in my makeup bag from now on. Try it yourself for €18 from Too Faced displays in House of Fraser and Debenhams.