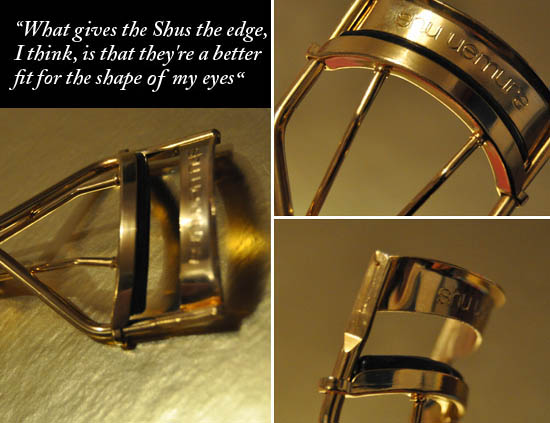 Like anyone else who has ever perused a best beauty buys list, I've come across rave reviews of Shu Uemura eyelash curlers a time or twenty. Industry insiders regularly list them as a must have, but when I recently asked a couple of make-up artists about what makes them so damn special I was whelmed by their response, to say the least.
They told me breathlessly that the shape of rubber pad - rounded rather than flat at the top - was what made all the difference. I nodded, polite but sceptical - mmmhmmmm, right, because no-one else has ever thought of that. Fairly sure that I had chosen my trusty Jemma Kidd curlers for that very reason, I had a good look at them on my return home. Sure enough the rubber pad on them is nicely rounded rather than flat at the top.
Feeling smug as you like, I continued to use my Jemma Kidd eyelash curlers ... until I espied a lonesome pair of Shu Uemuras on a shelf in the Las Vegas Sephora and got a major itch to try them for myself.
Well. It would have been mean (not to mention rude) to just leave them there on their tod, yes?
Advertised
Happily, they have been rewarding my incredibly selfless act of kindness and charidee with fabulously curly lashes, and I have to reluctantly admit that they are giving better results than my Jemma Kidds. What gives the Shus the edge, I think, is that they're a better fit for the shape of my eyes - wider and with a shallower curve across the business, clamp-y end, I can get them right in at my lashline without missing out on any at the corners. They also feel more tightly sprung than other metal eyelash curlers I've tried.
The Mavala and Ruby & Millie offerings I have in my stash, meanwhile, are plastic yokes that commit the cardinal sin of eyelash curlers with their flat rubber pads (boo! hiss! etc) and I find they're both divils for creating kinked rather than curly lashes.
And, of course, you can't pimp them out to be heated eyelash curlers like their metal equivalents!