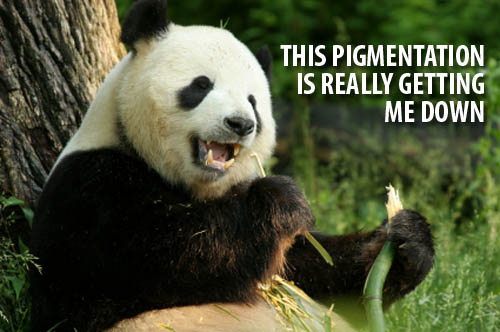 Having my make-up done a couple of weeks ago, my attention was drawn to the semi-circular pigmentation marks under both my eyes. I had noticed they were there, like, but someone else pointing them out to me really brought them into a sharper focus. Now I can't flipping see anything else when I look in the mirror.
Since I don't have kids (pregnancy is one of the best-known causes of hyperpigmentation) and this is a relatively recent development, I did a little investigating. Turns out that the pill can be another culprit, and of course the particular pill I've been on for the last year is said to be one of the worst offenders.
Dang. Should have paid more attention to that little "side effects" booklet, ha?
The good news, says top therapist Elaine Butler-Doolin of Bespoke Beauty, is that the "pregnancy mask" or chloasma usually disappears of its own accord post-pregnancy. To prevent it from spreading or becoming darker during pregnancy, though, she recommends wearing a sunscreen with a minimum of SPF50 at all times on the face and décolletage. And while we're all told to wear sunscreen daily and stick on a hat in strong sun, this advice is of particular relevance to anyone on the pill. You should be wearing a daily sunscreen of at least factor 30, according to Elaine, especially if you're over 25, and should be upping the SPF to factor 50 if you're out and about in strong sun. Sticking on a hat that the sun's rays can't penetrate will help protect your forehead, which is often worst hit by pill-related pigmentation.
Advertised
Now, hormonal hyperpigmentation occurs in the upper epidermis, so even if yours doesn't vamoose on its own after pregnancy or if you come off the pill it should respond well to topically applied treatments. And since pale is the new tan, there's a whole slew of skin lightening products to help out. Generally you should be looking for lightening hydroquinone or brightening ingredients like zinc, licorice, mulberry or rice extract in your products (it's a good idea to do a patch test with these and avoid using on sensitive areas). Mainstream, easy to get hold of brands like Dermalogica, Clinique and Origins now all have skin lightening ranges on offer for a DIY fix which will also tackle age spots, and an effective routine to tackle pigmentation would include regular exfoliation alongside treatment lotions and potions.
Those itching for a quicker fix could try microdermabrasion or laser treatment, says Elaine, which can also be used to deal with broken capillaries. Or, if you're after something that feels less like a red hot elastic band snapping against the skin, you could check out a thing called Amelan, which is an intruiging-sounding depigmentation treatment. Essentially it's a mustard-coloured face mask that's applied in clinic and worn for 10 hours, so you leave the clinic and head off home while still wearing it.
Probably best not to opt for public transport that day, then...
Bespoke Beauty, 12 Morehampton Road, Donnybrook, Dublin 4. 087 7701999, [email protected]; www.bespokebeauty.ie