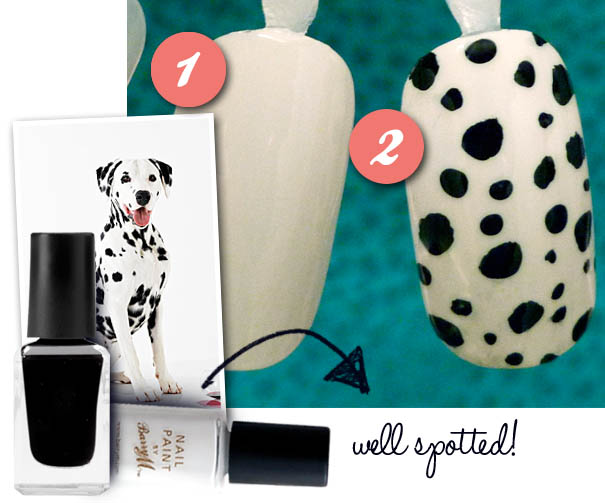 I love nail decals like Sally Hansen Salon Effects but they tend to be pretty expensive on a cost per wear basis and, on fingers, the lasting power's not great. To my mind, there are really only a couple of occasions that the spend is truly merited: when you want to achieve a foiled finish that can't be got with polish, when you're doing your nails on the go (no smell, no polish to knock over), or when you fancy sporting a seriously intricate design.
Dalmatian print is not that kind of design.
Don't bother splashing out on the €10 quid a pop on the decals that are starting to spring up in the wake of Topshop Unique, Burberry Prorsum, and Marc Jacobs' AW11 collections.Seriously, if you have opposable thumbs and white and black nail polish at your disposal - Barry M's Matt White and Black versions are cheap and cheerful and get the job done - you can definitely DIY Dalmatian.
Advertised
Apply a base coat followed by two coats of white polish. Opt for one that's intended for use on the entire nail rather than one that's for doing French tips: all whites are hard to work with, but the latter are inclined to be a seriously streaky nightmare when you try to use them all over.
Use the tip of the black polish brush to splodge on small and medium sized oval black spots. Keep them roughly oval, though - too jagged at the edges or too large and you risk it looking like cow print.
Done!