 The SS13 shows were mostly a (very quiet) riot of nude and neutral nails in ladylike shapes, but on the nail lovin' streets of the Interwebs as on the awards season red carpets it's still all about the pointed tip. The stiletto nail shape is every bit as impractical as the shoe it was named for – unless you have a minion-filled entourage to do your typing, put in your contact lenses, and assist with trips to the loo, of course.
If you love the pointy look but can't grow out your own nails, aren't bothered with enhancements or sticking on and shaping falsies, or sadly don't have an army of assistants who'll bend to your will, here's how to tap into the stiletto trend on shorter (or square, oval, or squoval) nails.
Just paint them into a point.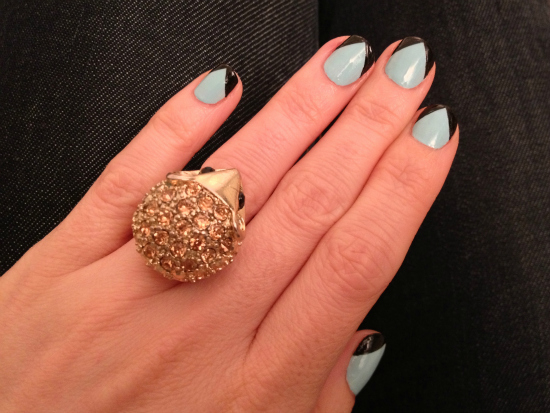 This winged outline puts the focus on the centre of the nail and the trompe l'oeil effect is of a simple sort-of stiletto tip, without any of the associated unable to use your hands awkwardness.
Advertised
1. Paint nails as normal (don't forget to use basecoat!)
2. Use an opaque black polish to freehand triangular corners at either side of the nail tip, meeting in the centre. If you have one, a striper brush can be used for the outline to minimise clean-up. You can control how pronounced the stiletto-ish effect is by varying the depth and angle of the triangles.
3. Achieve a similar effect on longer nails by painting an angular reverse French tip, where the base line of the tip is painted in straight lines rather than following the smile line of the nail, and then the rest of the tip is also painted black.
4. Finish with topcoat.