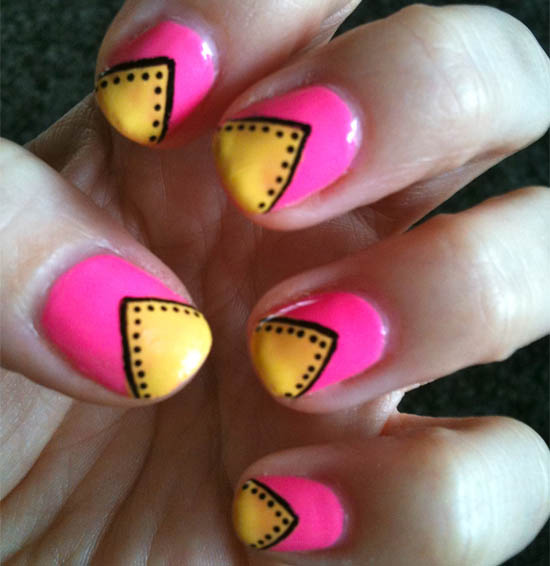 Ethnic and tribal prints are hotter than Hansel in Zoolander right now, and some of the very best-dressed nails that I've seen lately have sported graphic tribal designs, painstakingly painted on by hand.
On fingertips, tribal looks edgy and cool but, as the designs are usually very intricate, it always struck me as being almost impossible to replicate at home.
Unless you happen to be ambidextrous as well as handy with a nail art pen, of course.
Advertised
A couple of weeks ago, however, I managed to accidentally give myself a basic tribal-ish mani - on both hands! - when fooling around with my new Chanel Mimosa and trying to cover up some tip wear on a plain neon pink paint job (OPI Shorts Story.) It required a minimum of effort and specialist supplies, so here's how to DIY in case you're interested in trying tribal yourself.
Paint nails as normal, then use a contrasting colour for the triangle
Paint the outline first with two strokes of the brush; ensure that the brush is not overloaded with nail varnish to keep the lines crisp
Next, fill in the centre
If you've got a nail art pen, use it to draw an outline "v" roughly at the edges of the triangle of secondary colour
Add dots around, or inside, or on the border of the triangle in a "v" shape using a dotting tool or ballpoint pen
Finish with top coat
Get Beaut.ie Delivered
Stay updated with Beaut.ie newsletters full of the latest happenings at Beaut.ie as well as great offers and things we think you might find interesting .