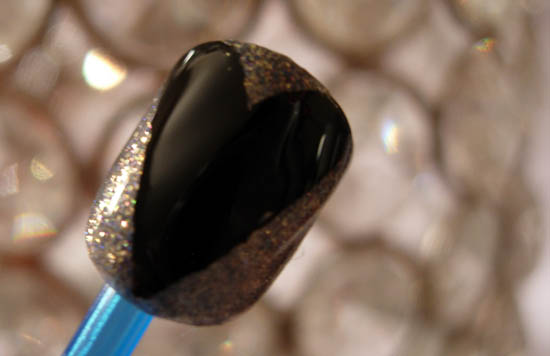 Yeah, I know: it's the pretend-y Hallmark holiday we all love to hate. But just in case you're a bit of a secret romantic at, er, heart, here's how to snazzy up your talons for Valentine's Day!
1. Polka dot hearts
I'm not going to fib to you, ladies: these lovely staggered rows of weeny vertical hearts that cover the nail are fiddly little buggers. If you're determined to have a go at them, try limiting them to an accent nail on your thumbs or ring fingers so that you don't crack up completely. You could also just run a single row of hearts down the centre of the nail, or even randomly place one heart on its tod.
I employed a Nails Supreme nail art pen here, but have used a ballpoint pen in the past to do the job - remember I mentioned before that it makes an ace dotting tool for polka dots? Well, it works for polka dot hearts too, but remember to clean the nib with a little nail varnish remover between hearts.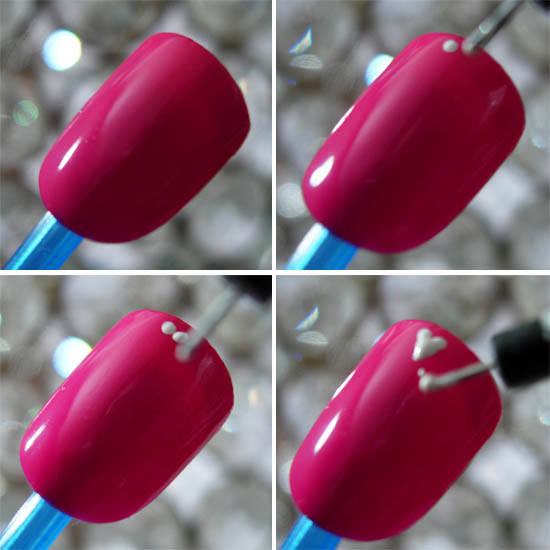 Create two small dots side by side - but not so close that they join up - on the nail.
Join the dots by making a little "V" shape beneath them.
Fill in any empty space with a light touch - use too much nail polish here and it will be difficult to control and get a nice clean line. (In my haste I ignored my own advice, as you can see, which is why my hearts look a bit like misshapen Mickey Mouse heads.)
Advertised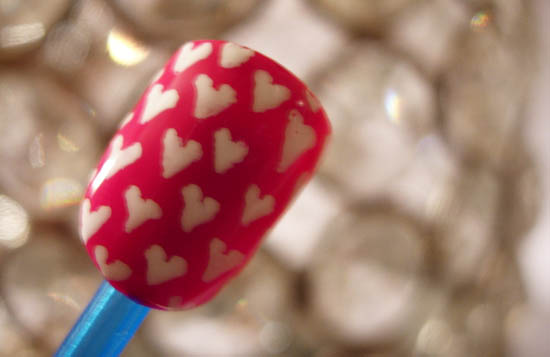 2. The whole shebang
Full-size hearts can look a bit less cutesy - and are easier to do - than their pint-sized polka dot counterparts, although I'd still be inclined to save them for an accent nail. You really don't need any specialist products or tools for these.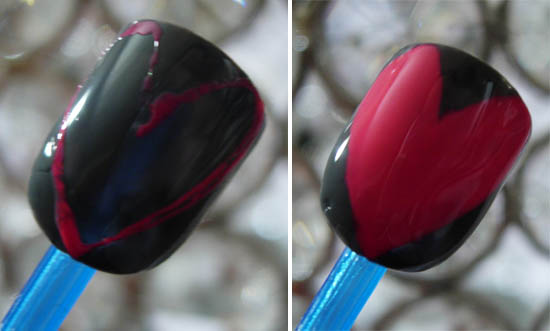 If you happen to have a nail art pen, use it to draw the outline of a large heart that almost covers your nail, and fill it in.
If you don't, just use the brush of your chosen nail polish. Don't overload the brush - this will help to keep the edges crisp - and again, do the outline first. Start with one side of the top of the heart, then that side of the heart, tapering to a point. The idea is that by the time you come to the point,  where you need the least polish, you'll only have a small amount left on the brush anyway.
Repeat for the other side of the heart and fill in the centre.
Advertised
Finish with a fast-drying topcoat like Seche Vite or Sally Hansen Instra-Dri to set all layers of your manicure quickly and minimise the risk of smudging.
Nail polishes used as base colour, from top: Andrea Fullerton Mischa, Barry M Shocking Pink, Barry M Grey