 Have you ever thought about Eddie Hobbs when he gets out of the shower? Well, I have.
There is nothing better than treating your skin to a decent body lotion when you jump out of the shower. And much as I love some of the more pricier options, I can't justify spending that amount of money on them. But if someone wants to buy me a present of one,  then I shall ever so gratefully accept.
The thing about the cheaper options is that sometimes they can be sticky, gloopy and smell like a whiteboard marker (remember the Aldi 'Yes, it looks EXACTLY like the Body Shop packaging but it smells EXACTLY like a Tesco plastic bag' Lacura Body Butter range?).
Well, I am happy to report that I've found a budget body cream that is actually pleasant to use.
Lidl have been bringing out some great Argan Oil products of late and they've now moved on to the macadamia nut for inspiration.
I tried out their Macademia Oil Extract Body Butter and loved it.
First things first, the €1.99 price-tag has to be ignored by any budget product pooh-poohers. The butter looks like mascarpone cream and thanks to my weak spot for the white stuff I actually had a Homer Simpson-style drool moment when I scooped some up. Despite its apparent thickness the body butter doesn't feel like cream - the texture is lovely, fluffy and light.
Advertised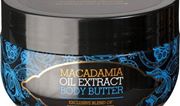 I rubbed it on my left arm first and was a bit worried when it looked a bit streaky. Would it take ages to soak in? Would it feel like mascarpone cream, all sticky and weird (not that I've ever rubber edible cream on myself, that's, eh, just how I think it would feel)? The answer to both those questions is no. It felt pleasantly cool, it soaked in in record time - way faster than the famous Body Shop body butters I usually use - and didn't feel sticky at all.
And now on to the smell - the main selling point is the macademia factor, a scent I wouldn't usually be a fan of because I don't really go for sweetness. That said, it works with this product like a charm. Two hours after slathering it on I told some friends about it and although I couldn't smell it off myself any more, they could get a subtle little hint of it and thought it was divine.
For silly billies who tend to judge books by their covers, the packaging on the body butter does this budget beauty a lot of favours (and if you want to check out the body lotion winners from our Beautie Awards 2014, you'll find them here).
Advertised
For such a, yes I'm going to say it, luxurious-feeling product, the price is simply ludicrous! I'm not complaining though, I expect that along with my coffee capsules and American cookies, this is going to join my Lidl shop staple.
Have you tried out this new offering form Lidl? Will it be making its way into your shopping trolley? But be quick - these are limited editions and selling out fast!