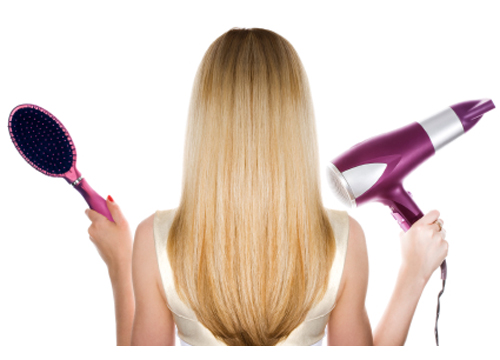 We've been discussing various ways of saving money on beauty treatments by doing them yourself at home lately, and blowdrying your own hair is another one that is pretty manageable once you have the right tools and practice a bit. There's nothing quite like a salon blowdry, but for some reason I've never been one for going to a salon just to have my hair washed and dried. It's taken me years, but I've finally mastered the art of drying my hair myself at home, so I thought I'd share a few tips - now that I've got it down to a fine art, it takes me no more than 10-15 minutes to get lovely straight, smooth hair. Read on to find out how...

1. For a blowdry to really last, I like to use a clean-rinsing shampoo and minimal conditioner. I find if there's a lot of residue left after washing my hair, it weighs my hair down and leaves it limp and uncooperative. My favourite shampoo when I really want a nice blowdry (and I swear my hair looks different when I use it) is Aveda Shampure (from €15). For a nice smooth and shiny finish, Smooth Infusion conditioner (from €22) on the ends of my hair gives great results.
2. Nothing beats a salon hairdryer when it comes to blowdrying your hair at home. Cheaper dryers are less powerful and can be more damaging to the hair in the long run, as it is exposed to heat for a great length of time. My hairdryer is a Parlux, the same model used in my salon, and any time I've gone back to using a cheaper hairdryer, I notice the difference straight away. Check salon supply stores or enquire in your hair salon about buying a hairdryer there.
3. If you have hair that tends to get frizzy (like me) a serum or smoothing creme really helps to counteract this. Still on my Aveda kick, I love the Light Elements Smoothing Fluid (€31), which smoothes the ends without any heavy residue and doesn't make my hair look lank or greasy. I apply it only at the ends of my hair and a little bit goes a long way.
4. I start off by taking the heavy moisture out of my hair - I brush through with a vent brush to help detangle, following the brush with the hairdryer nozzle. I do this until my hair is partly dry.
Advertised
5. Next I move onto the second most important tool after the hairdryer - the ceramic round vented brush. I use the Denman Thermoceramic Hot Curl brushes by Denman. I do find the ceramic brushes get my hair dry quicker and leave it smoother too, so I think it's worth investing in one even if you have an ordinary round vented brush.
6. Now here's where technique really comes into it. Hairdressers will usually section off the hair, drying one small area at a time. I just don't have the patience (or the arm strength) to spend that long drying my own hair, so my shortened version means pinning back the top section to dry the hair underneath first, and then letting the top section down to finish the front and sides, where the most attention is needed. While drying the top section, I flip my hair from side to side, varying the depth of the parting on either side as I go, to get it dry all the way around. This has the added benefit of giving volume and a bit of swing to my hair. I start with the round brush underneath the hair at the scalp, then slowly run it down the length of the hair, following it with the nozzle of the hairdryer. To get some added volume and a slight wave, you can also try rolling a section of hair right around the barrel of the brush and blasting with the hairdryer.
7. I use the large Denman Thermoceramic brush most of the time, though if my hair is a bit tangled it sometimes helps to use a smaller one to really smooth the hair out. It is also handy for using on the shorter sections of my hair around the face. Even when my hair feels like it is dry, I keep going from one side to the other and around the back of my head, to make sure no moisture is left (this is what causes the dreaded frizz once the heat has left the hair).
8. And finally, I blast my hair with the cold shot on the dryer, still using the round brush, to fix the style. Voila - smooth, salon-straight hair for free!