 If you missed our recent article on the top ten unique makeup brands that you may not have heard of you can catch up here. And one of those brands was one of my personal favourites, Jeffree Star Cosmetics.
But what's all the beauty buzz surrounding this brand about?
Well, colour, vibrancy, fashion, bold and out there are just some of the words that come to mind when I look at this makeup line.
From tip to toe, it's utterly brazen. And that's why I love it.
But who is brain behind this brand? Jeffree Star or Jeffrey Lynn Steininger is an American singer, songwriter, makeup artist, fashion designer and model from Orange County, California (yes, I know, the OC theme song is currently repeating over and over in my head now too.....California here we come right back where we started from californiaaaa").
Anyway, he started his music career on MySpace and grew his followers to reach 25 million plays of his own music, which in turn led to a debut album release.
And in 2014, he launched his own cosmetics brand called Jeffree Star Cosmetics.
Advertised
The brand is all about inspiring people to be themselves and staying true to who they are, a motto I enjoy and agree with. Probably best known for his Velour liquid lipsticks, this brand is quickly generating huge interest through the online makeup community and beyond.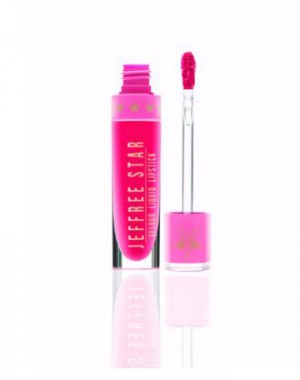 This little pot of wonder goes on opaque and dries completely matte. It literally does exactly what it say's on the tin and stays on for hours, days even. I got my paws on one recently (I spied it in a friend's make up kit and jumped on it like it was the Holy Grail). With her permission, I applied a swatch on my hand and literally nothing would get it off. I tried everything. I'm not sure if that's a good or bad thing. I'm going to see if I can get my own it so I can show you exactly what I mean. I'll update this post then.
Advertised
It's 100% vegan & cruelty-free and while it's only available online, it's worth a try if you love trying something new.
Have you ever tried any of these products? What are your thoughts on long-wearing lipsticks?