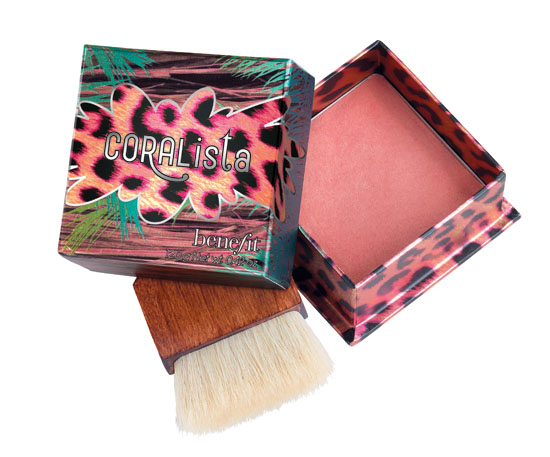 I really thought we'd reviewed Benefit Coralista, €31.50, but while it's been mentioned in passing and even given away, no one's set down their feelings for it in digital-style writing yet. I wasn't very interested in it when it launched, sniffily reckoning that I wouldn't like it. God knows why I thought that, BECAUSE I BLOODY FECKING WELL LOVE IT.
A late convert, I know, but this is wonderful. It's a superb product that performs excellently, smells delicious and really really transforms a face of makeup. The orange/coral shade is terrifying, I'll give you that. But it's easy to use - though throw away that brush and use a regular angled brush blush, you'll get a better result. I buff it onto the apples of my cheeks and back out to the hairline and regularly wear it during the day. It's easier and less in yer face than the pinks I use so much, and it's also very warming. There's some subtle sparkle in there too which I like a lot.
Advertised
I tend to like to wear contrasting makeup so I've found this looks really good with thick, winged navy liner - blue (ok, I know I'm stretching it there) being opposite orange on the colour spectrum. It's pricey, and as ever, the carton is prone to disintegration, but you get a whopper of an amount, and the sheer prettiness of the result makes this an all-round, tip-of-the-tops buy.