 When it comes to face primer, there are many things to look for when choosing your perfect product.
Are you looking for a glow, colour correction, even skin, less evidential pores, mattifying? There is a primer for it all. For me, my open pores have always been an issue. I have been working hard on my skin over the past year, but the one thing that you just can't really change is open pores. So when it comes to primer the one I always choose to is - quelle surprise - Benefit The Porefessional.
I've tried 'em all and for open pores, there's just nothing else that can compete.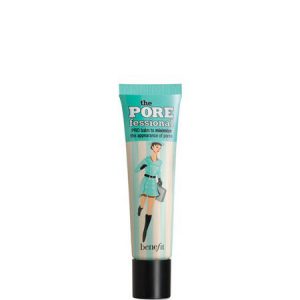 This primer is oil-free which I need, thanks to my really oily skin, yet it is so soft and smooth when you apply it. The formula reduces fine lines and pores, so your foundation application is a dream. A little goes a long way with this product especially if you have skin of the oily kind. The primer acts as a barrier for your foundation and stops your skin from absorbing product, so your foundation should stay put all day long without looking or feeling caked on.
Advertised
I use this over my makeup as well, when my pores make a cameo appearance. When this happens, I just pat a little on the exposed area and blend.
Inevitably, it has its haters - and therefore its flaws. Not everyone loves the texture, for example, and some people find it can flake off. But for me, someone with very large open pores and very oily skin, this works.