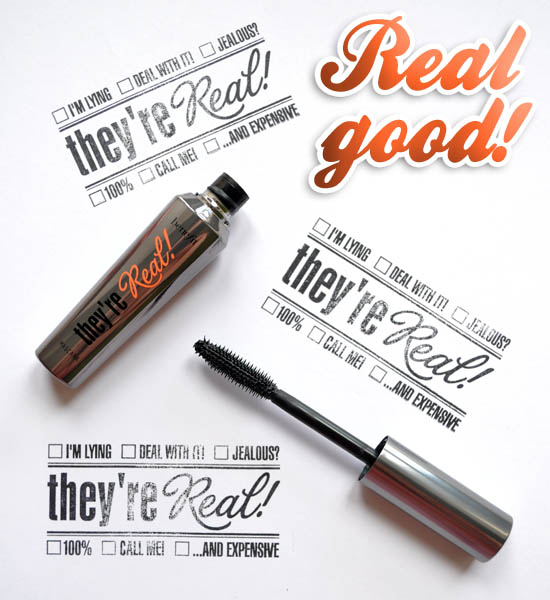 Mark August in your diaries, girls, because that's when They're Real, €24,50, Benefit's newest mascara hits town.
Yep. I know we've just gotten over the Cha Cha Tint excitement. Sorry!
Benefit's not a brand you'd traditionally say is particularly up there when it comes to mascara and there's only the one (plus its waterproof variant) in their product arsenal. That's the very voluminous Badgal which I've found really polarises people.  Some absolutely adore it, and it's their holy grail. But while I love volume - which is what it does - I don't love the big bog brush-style wand so we don't get along.
This though, now this is a different prospect.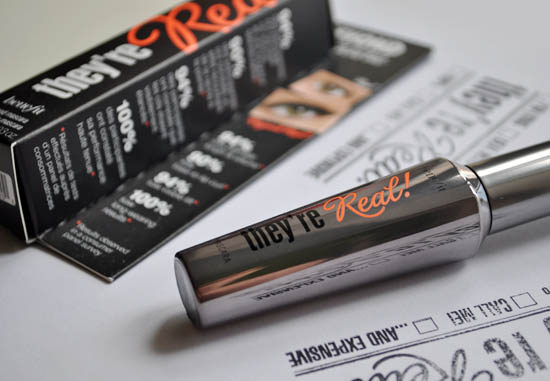 Benefit haven't re-invented their own kooky wheel with They're Real; it's not Badgal Mark #2. This is a lengthening, separating and most importantly, curling mascara. There is a volumising claim too but honestly, this isn't a stellar lash fattener, and it'd do better to shout louder about the other things it does really well. It's got a neat brush head which does a magic trick I'll explain in a bit, cool packaging which sets it apart from yer standard mascara wand, and of course it's got a cute backstory too.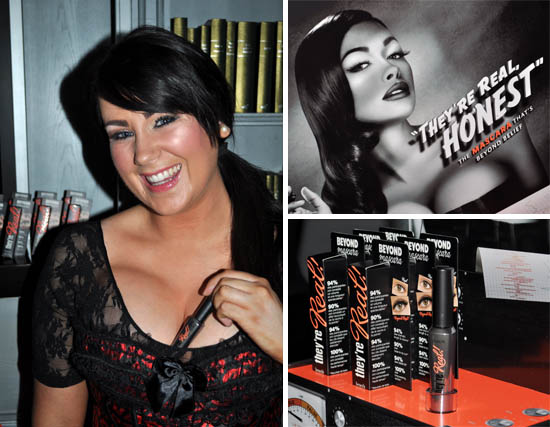 Advertised
What's this They're Real malarkey all about? Quite simply, people will wonder if they're real. Where you got your boobs done is another matter altogether! Ba doom tssch!
Seriously, this gal's boobs were very definitely all hers. Very impressive they were too - but the corset was used to illustrate that They're Real can do for your lashes what excellent lingerie can do for your figure. Smart move, Benefit.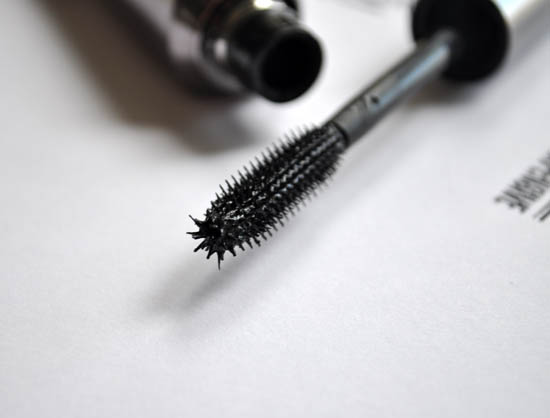 So, does it work? It does. That's down to a combination of special gunk and  a patented brush which work in tandem. The top of the brush is like a pared down version of Givenchy's Phenomen'eyes but it's far less scary and much easier to use. So, here's what you do: lay on a couple of coats (I found no more than three worked the best in order to not end up with spiders legs of clump-tasticness) in a normal wiggle-from-root-to-tip manner and then flip the brush upright so the tip of the wand with the slightly splayed out bristles is flush with the root of your lashes.
Now, gently push them upwards and outwards from the roots using the tip only, and watch how they lift and separate - and most importantly, stay like that. This is vital actually and if you don't do this as a finishing step, you won't get the full effect and benefit from this product. The formula was apparently designed to dry quickly and hold that curl so once you press lashes up using the splayed tip, you're good to go, and no lash curler needed.
Anything bad? Price'll put off some, it's a bit tricky to layer past two-to-three coats, probably because it's designed to dry quite quickly, so you need to work fast. That means you might make a bollocks of your first few forays (I did), but persistence is worth it. It's a bit of a bugger to get back off as well - cleansing wipes fans will grumble. Even my beloved cleansing oil takes a good few seconds rubbing to start to lift it.
All in all though, if you're after a mascara that will give you a jet black finish, some nice added length, decent separation and a curl promise that actually delivers, then They're Real is it. I like. I like a lot.
Advertised
Psst: If you don't want to wait until August, you can buy from Benefit's US website* now for $22 (about €15). You'll pay extra for shipping but if you keep your order under €22, there'll be no worries about getting nabbed for customs.
*Indicates an affiliate. This means that every time you click through the link above and choose to buy something we will get a tiny percentage of that sale.