 Being organised is not something that comes naturally to me, as a child my room was always a mess and that carried through to my teens. At the time, I liked to think that it was part of being a creative, free spirit… well that was my excuse anyway. The type of work that I do requires me to be more organised though, so I had to really train myself to be that way. Tidiness is a must as well, so they're both something that I am fastidious about when it comes to my kit bag and make-up products. After all, would you want to see a make-up artist rummaging around to find products that are a bit grubby and messy? (Actually, have you ever seen this?!)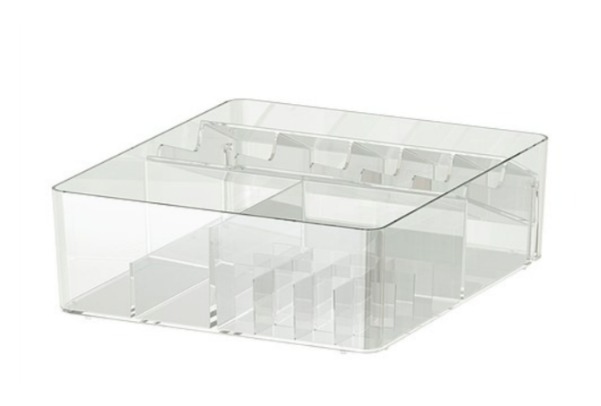 I have a lot of make-up products and not all that much space to house them so I'm big into space saving storage solutions. I imagine anyone who loves make-up and beauty will already know just how easy it can be for things to get out of hand in terms of organisation. We've all had stray lipglosses and eyeliners end up scattered in different corners of the house, rolling underneath the couch or ending up in the pocket of your long forgotten winter coat and that's before you even think about the car or handbag! So with that in mind I thought I'd share some effective storage solutions to help house those beloved beauty bits.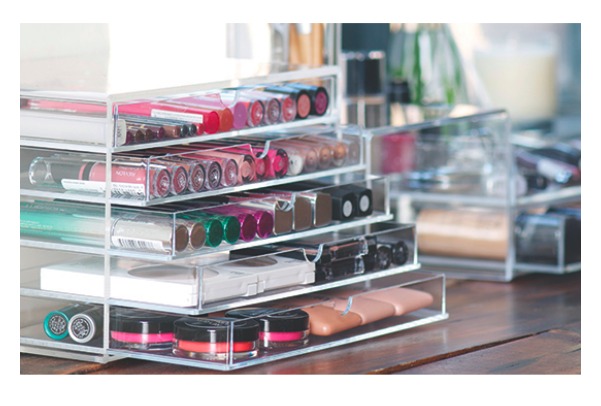 Practical storage solutions are the name of the game for both MUJI & IKEA with the added bonus of reasonable prices too. IKEA's Godmorgan box (€18) is a real all rounder with compartments for different cosmetics, brushes, hair grips etc. Muji's offerings include multi functional slide out, perspex drawer organisers which are great for keeping eyeshadows, glitter pots, lipsticks and blushers in one place. They range in price from, €15 - €35 depending on which size you go for but I love that you can see all the products in them. For more on-the-go storage the Nylon Cosmetic Brush case, (€22.50) is nice and compact with special sections for keeping brushes safe, a zip compartment and also smaller plastic holders for blusher/eyeshadow.
Advertised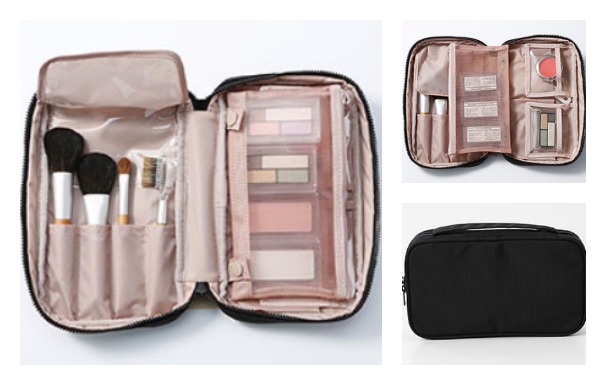 Irish company Her Clutter Box are ones to watch out for if you are seriously looking to invest in a sturdy piece of kit for your storage needs. Their hand made acrylic boxes comes in differing sizes and are designed for maximum storage and durability. There are 6 to choose from with prices ranging from €159-€199.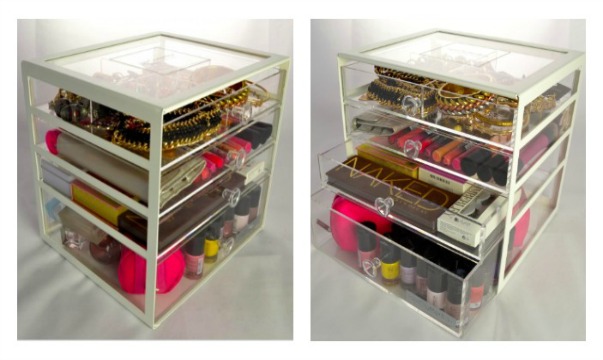 I've mentioned the Japonesque 36 well palette (€30) before, but I thought it was worth another quick mention here in a different context as it is the perfect storage solution for lipstick lovers who want to keep everything in one place, although you could also use the empty wells for creamy concealer/highlighter/contouring products too. If you're on the hunt for something similar but a little more budget friendly, Vueset have three options which include the 15 section Bonanza palette, 24 section Tahiti and Disco Prima palette (€14-€16 with love-makeup.co.uk).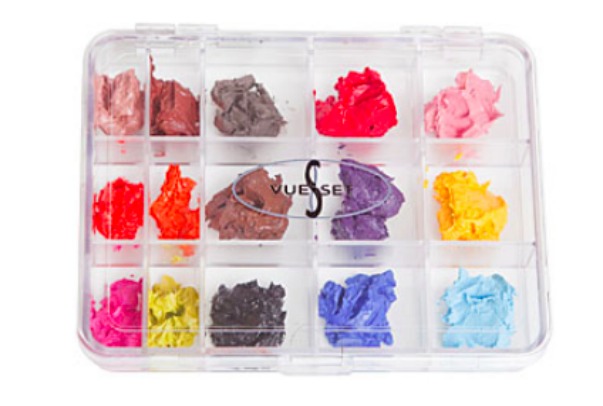 Are you a storage queen or a bit of a hoarder in need of a clear out? I'd love to hear if you've got any tips - two storage units heads are better than one!