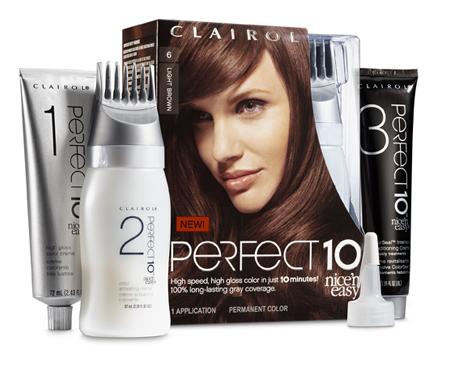 With the cost of salon colour often not giving you much change out of €100 these days (and that's before you add in a cut and blow-dry), in these cash-straitened times, something's gotta give. Trips to the hairdresser is often that something, and that's why there's a big trend emerging for at-home hair colouring products that perform.
Hold on. They're stinky, messy and gross, aren't they? While no one's going to pretend you'll get the exact same results you would in the hands of a pro, hair dye has really improved over the last number of years.  Brands like L'Oreal's Feria offer massive choice, and if you don't want to go the chemical route, Naturtint (at health food stores) is an eco-alternative.
Clairol have recently added to their Nice 'n Easy line with Perfect 10. A much less stinky colourant (it's true - they mixed some up for me and I wasn't knocked sideways from the bang of ammonia) that covers greys, it comes in 15 shades and does its magic in ten minutes.  The bottle is well designed too - you can add a comb attachment for doing your whole head, or use a nozzle if you're touching up roots. The damage? A very purse-friendly €12.99.
Advertised
Of course, at-home dye jobs always fall down when you discover you don't have octopus arms and actually, no, you can't reach the back of your head. My solution? Draft in a pal - she can get to the bits you can't reach, and you can return the favour. Bingo!