 Here's the big news: The Body Shop's joining the 3-Free bandwagon for Christmas with the launch of two formaldehyde-, toluene and camphor-free nail polishes. Ok, technically I know DPB is the third wheel in the 3-Free family but camphor is a nasty too and a happy thing to leave out. So that's all good.
Launching on November 11th, the two polish shades are limited and we'll be able to pick up Starry Night and Twinkling Pink for €8.50 each, which is a relatively affordable price point (from a very accessible brand) for those who'd like their lacquer to be a little kinder to their nails.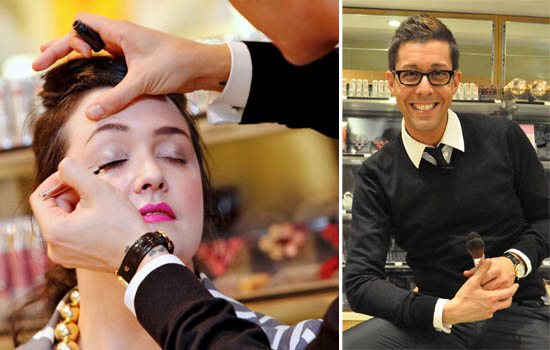 Me getting the Karim of the crop treatment; and the man himself
But that's hardly the end of the goodies from the brand for the festive season. Last week, I headed to an evening blogger event at the Body Shop on Grafton street, hosted by Karim Sattar. This German makeup artist is their international (makeup) man of mystery as well as a howl. He took myself, Lee from Mwah.ie and Annemarie from Whatshewears.ie through the new products and then for good measure, slapped some of them on us as well.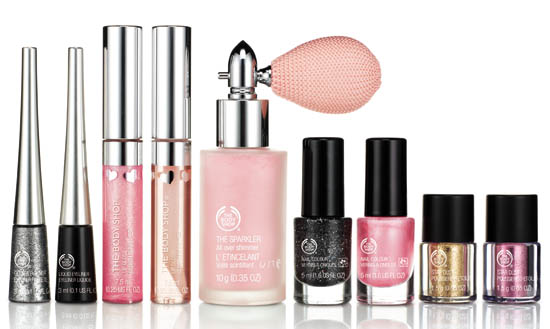 So what's coming up? Also launching on November 11th are some really nice little goodies, as it happens. From left to right, we've got two eyeliners in Stardust and Black and they're €14.55 a pop. Beside 'em are two Lipglosses in natural and Pink Sparkle, €14.50. That's an interesting little yoke there, isn't it? Like Guerlain's Christmas atomisers, it's spray-on shimmer and it's a really cute little product. Sparkler in Boudoir Pink is €19.95. You've already seen the polishes so lets gloss right on over them and WHADDAWE HAVE HERE THEN?
Another brand first: glitter. Two pots of loose spangles in gold light and pink will cost €12.50 each and they are really, really blingy.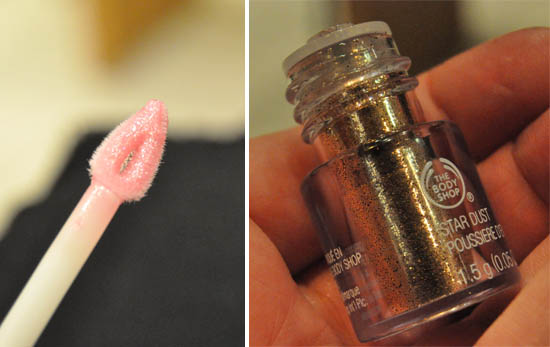 Advertised
A couple of close-ups: the Body Shop has changed the applicator on its lipglosses from a doefoot to this L'Oreal-alike heart shape and here's an up close and personal look at that glitter. *happy sigh*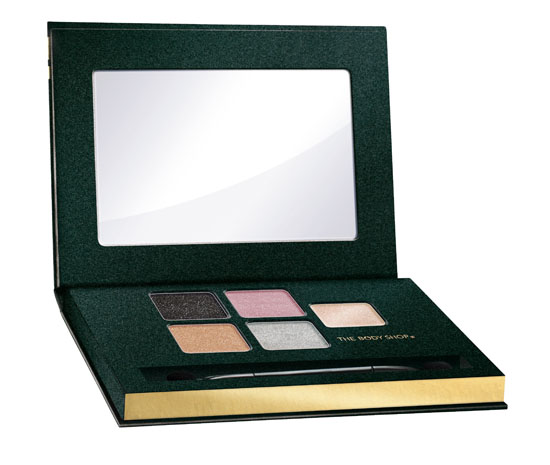 There are also two palettes on the way - a cool and a warm. At €22.50, they're well-priced I reckon: you get four decently-sized shadows which aren't in the permanent collection (to the best of my knowledge), along with with a creamy, pearlised base to use to add extra intensity or as a highlighter.  You get a decent amount too: 1.8g in each shadow and 1g of base, which compares very favourably to a regular Mac shadow containing 1.5g, for example.
That's Midnight, the cool-toned one above, and below you can see some me-shots (i.e. crap) of both.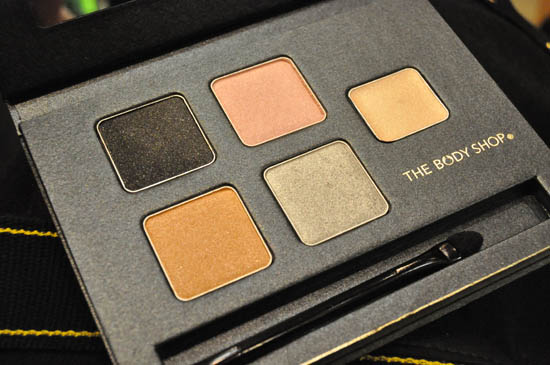 Here's Midnight again, shot under artificial light.  Shades in this one are Silver Moon, Bronze Blaze, Pink Light, Starry Night with base/highlighter in Lunar.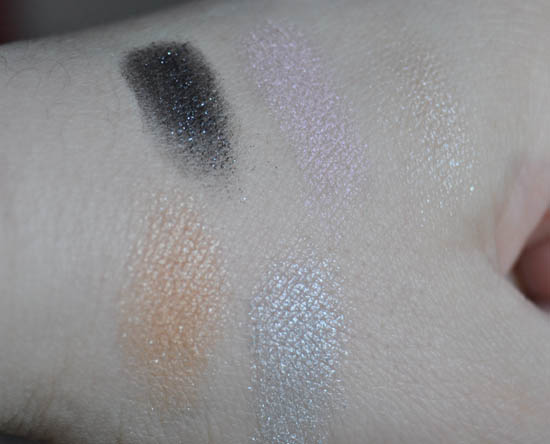 And some super-quick swatches. I'd describe these as on the sheerer side of medium but they're buildable, can be used wet and will gain extra intensity used over a base.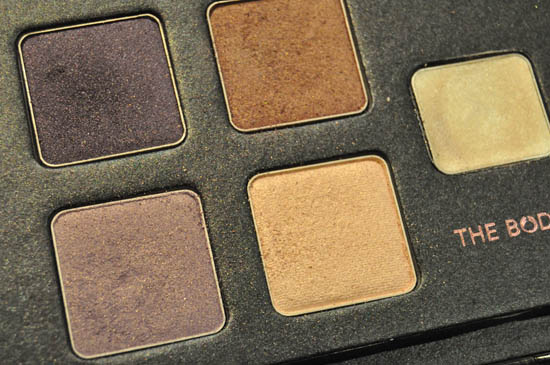 Advertised
Again, Twilight was shot under artificial light and contains Violet Sky, Lilac Mist, Pink Champagne and Damson Velvet, plus that primer/highlighter in Pearl.
All in all, this is a really nice collection with some interesting products from a brand a lot of us would generally overlook for makeup - I know I haven't really paid the Body Shop much attention since my days of constantly buying Beech Lipliner and kiwi lip balm. I had a play with some other bits when I was there and was really taken with some of the single shadows - almost creamy they're so soft and pigmented - and the lipsticks, which are available in some really great (read: slagtastic) shades. More on those soon, ladies!