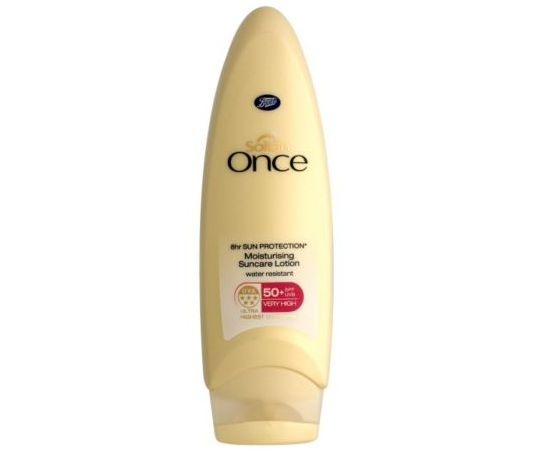 I do a fair bit of whinging and moaning about the weather this end of the world, but last week I was very thankful that I don't live in a climate where full-body applications of sunscreen are a daily necessity. That was partly down to the 30 degree-plus heat, but mostly it was due to Boots Soltan Once Lotion with SPF50.
It sounded really good on paper: eight hour sun protection from a single application and five star UVA protection? Eh, yespleaseandthankyouvermuchindeed.
From the first application, though, I had an inkling that Soltan Once and I weren't going to get on. It was thick and incredibly difficult to apply evenly, and left a significant white cast on skin. A higher SPF value can cause that opaque quality, but I've used several other SPF40s and 50s that haven't had that problem.
Advertised
To add insult to injury, it stained light-coloured clothes like a mother and didn't really sink in all day, instead sitting on top of skin in a sticky, tacky layer that felt seriously gross. Now, to be fair, neither Himself nor I got anything approaching burnt while using it, despite being outdoors for hours on end in the sun. And I didn't suffer any sun-induced skin allergies while using it. And since it does offer UVA as well as UVB protection it's perhaps a little unfair of me to describe Soltan Once as the Worst. Suncream. EVER.
However, Himself's heated proclamation of it to be the worst suncream we've ever used as a couple definitely stands. We opted to spend the last day of our holliers indoors because neither one of us could hack another day of feeling sticky, and I left one full bottle and one empty bottle behind me in the hotel room as we headed down to reception to check out.
And no. I won't be replacing them.