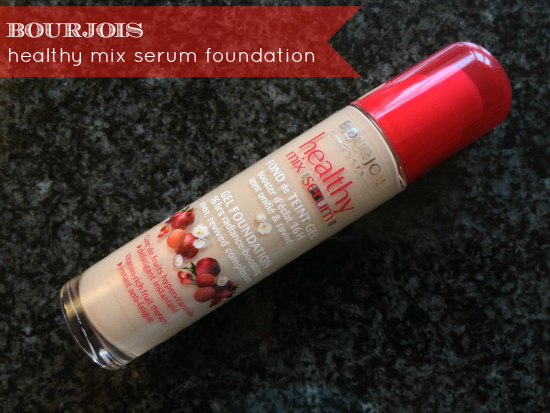 If I was making a list of things I never thought I'd like, I'd include olives, red wine, the colour pink, and a light coverage foundation. Bourjois Healthy Mix Serum Foundation is responsible for completely changing my mind about the latter – and I nearly didn't even try it!
All the reviews I'd seen suggested it was for drier skin types and I didn't think it would work on my combo-oily blemish-riddled mush. Then last week, reader Harto commented that she actually found it better for skin with oily tendancies than the original Healthy Mix formula, which I had been using but feeling a bit "meh" towards.
It would just have been positively rude not to pick up a bottle and give it a whirl.
Bourjois Healthy Mix Serum is packaged in a slender glass bottle topped with a screw-off plastic pump dispenser so you can get to every last drop, and my first thought about it was "there is no way this isn't going to end up smashed to bits on a tiled floor."
Smash-related misgivings aside, I'm really, really liking it. It's a very different beast to the original Healthy Mix and, as Harto suggested, it's a much better fit all round for my combo-oily skin.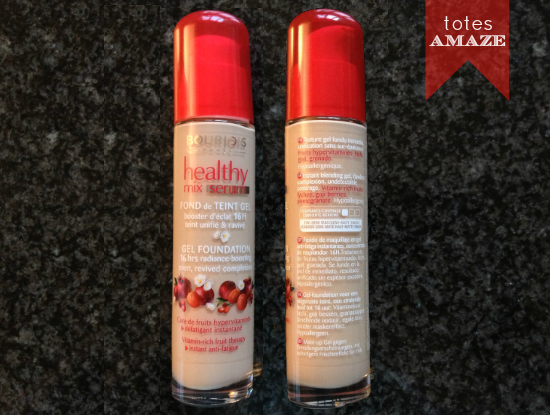 Three-quarters or so of a pump is enough for my whole face, and I like to apply it with a foundation brush (MAC 130) for a flawless finish. The kinda sorta gel texture is easy to blend and so lightweight that it feels, to quote stupid sexy Flanders, like I'm wearing nothin' at all. There's a lovely bang of apricot off it that makes me want granola and yoghurt and fruit compote for brekkie, and it's less sheer than I expected, providing surprisingly decent coverage for imperfections like minor thread veins, redness, and dark spots.
Advertised
This is in marked contrast with some other minimal coverage foundations I've used, which all to often seem to go for "no" rather than "low" level coverage.
I do top up any areas that I feel need additional camouflaging, like dark circles, angry spots, and my nose (which would give Rudolph a run for his money when the cold air hits it), with Bobbi Brown Creamy Concealer and Vichy Dermablend Fluid Foundation. However, this requires only the tiniest smidge of product buffed judiciously into problem zones with a small fluffy brush (MAC 217.)
Without setting with powder, I find that I'm getting a good 6-8 hours wear, although bear in mind I am using a mattifying moisturiser underneath. In that time it doesn't emphasis flakiness, which tends to be a problem for me at this time of year, or settle into pores, fine lines, or wrinkles; nor does it separate in oily areas or oxidise on my skin.
I'm not sure if it's the semi-matte finish, the vitamin-rich fruit therapy formula enriched with lychee, goji berries, and pomegranate (the new goji berry, dahling) or what, but even when I'm cream crackered I do look more awake wearing Healthy Mix Serum than with other foundations (a comparable result to Rimmel Wake Me Up but without the light-reflective particles and very dewy finish.)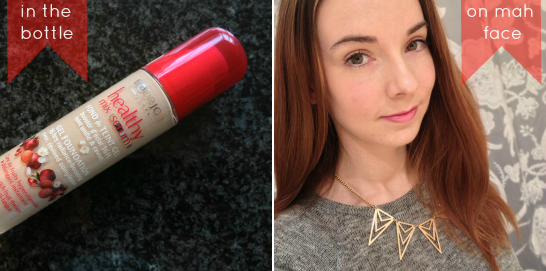 I'm actually fast asleep in this photo. More to the point, though, I'm wearing no other base products.
In short, Bourjois Healthy Mix Serum has blown me away. For a fraction of the price it gives me the sort of second-skin look that I'd hoped to get from premium foundations like YSL Touche Eclat and Chanel Perfection Lumière. It makes my skin look so damn good that I've even worn it on Proper Nights Out, a job usually reserved for my Double Wear Light and Teint Idole cover-all big guns.
Advertised
If that's not a great big double thumbs up from a blemish-prone total-coverage foundation lover, well, I don't know what is.