 BB Creams, CC Creams, foundation, concealer; these types of products are commonplace for most of us these days. We love them because they give us a helping hand to banish dark circles, hide fine lines and even out skin tone and texture. For some though, a little more help is required and that is where camouflage make-up comes into play.
The first camouflage products were developed in the 1920s. Make-up artist Max Factor pioneered the grease-paint foundation worn by film stars which had a special formula to withstand perspiration and heat from lights and studios. He launched his first commercial collection for women but there was nothing available for men as at the time, it wasn't considered to be socially acceptable for them to wear make-up. However, Max factor later began working with plastic surgeons to create a make-up product that war veterans could use to cover their burns and scarring.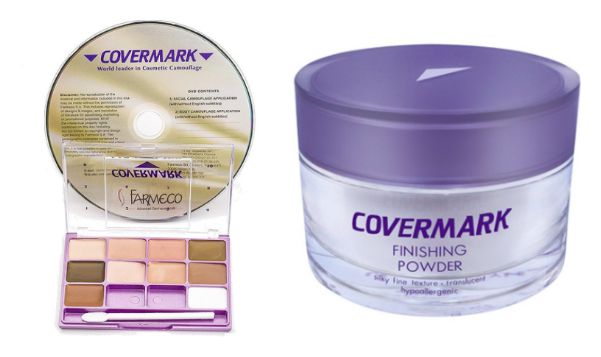 In the late 1920s, a chemistry and art student named Lydia O'Leary also created a concealer/foundation, but this time it was designed to cover her Port Wine Stain. She called the formula Covermark and it became the first make-up product of its kind to receive a patent and paved the way for other camouflage make-up to be seen as a medical aids rather than beauty products.
At the time it was believed that more than 15% of Covermark's sales came from men. The company is still going today, although the original thick liquid formula has been updated to a cream over the years and other products have been added the collection.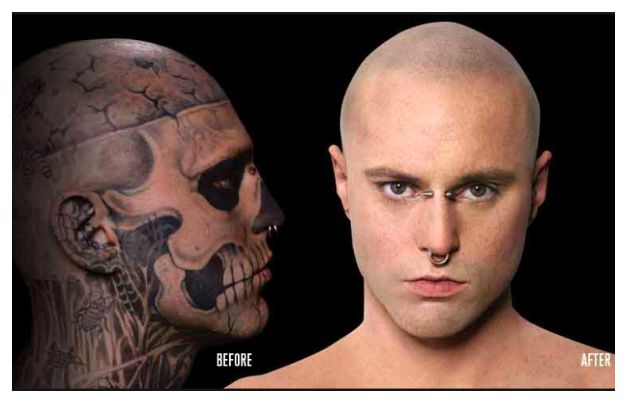 Advertised
There are many reasons that a person might wear camouflage make-up whether it's to cover a birth mark, pigmentation, scarring or varicose veins. There's a growing demand for tattoo cover up as well – something that DermaBlend know all too well, showcasing the power of their products on the famous "Zombie Boy" in one of their campaigns.
But what makes camouflage make-up different to regular concealer? It will depend on the product but in general, the main difference is that there is a much higher pigment in camouflage concealers/foundation, which means that while you might use the same amount as a regular cosmetic product you will see a higher coverage. There is usually less oil in the formula as well, which makes them feel slightly drier to the touch but will also stop them from sliding off during the day.
In terms of application, camouflage creams perform best when buffed or patted on to skin and then sealed/set with a powder or setting spray. Sealants and powder vary but many of them offer waterproof protection as well.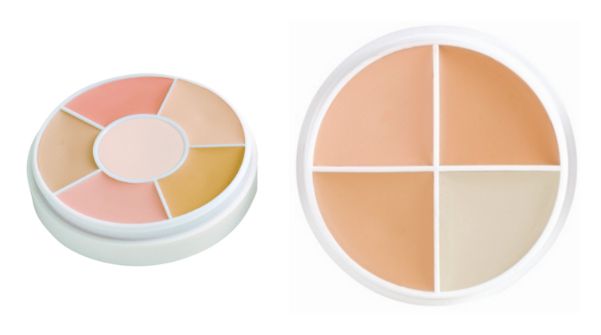 Camouflage make-up is still quite a niche market but it's easier to find products nowadays compared to even a few years ago. Below are some of my favourites that I've used to cover birthmarks, tattoos etc when working. There are more shade and product options (body etc) available within each range/brand mentioned so I'd recommend browsing their collections too:
Advertised
Ben Nye Media Pro Total Cover-All Wheels and Ben Nye Media Pro Conceal All Wheel NK1. €38 & €15 with Gurumakeupemporium.com
Covermark Face Cover Cream Trial Pack (contains a sample of all 10 shades available) & Setting Powder. €12.75 & €32 online with Garden.co.uk
Vichy Dermablend Ultra-Corrective Cream Stick. €21.99
Kryolan DermaColor Camouflage Cream. These are available for €13 in individual shades or you can get a 16 colour mini palette for €24. The setting spray is fantastic at €23, all available from Sunaura.ie or Make-up Forever.
Have you ever used camouflage make-up? Do you have any to recommend or add to the list?