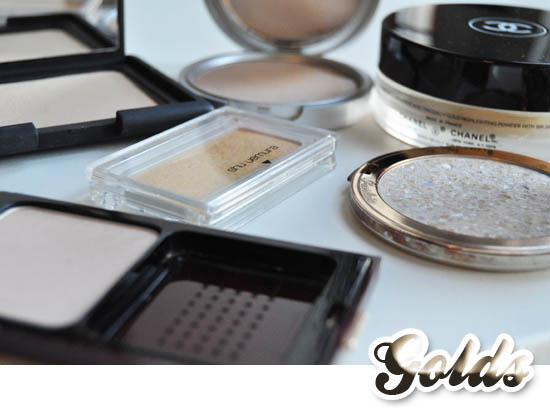 Ah highlighters. An oft-misunderstood beauty bit, facial highlighters are subtle little things that are designed to add a light-catching glow to prominent areas of the face and are particularly good for use at night. It can be really easy to feel a mad bang of disappointment that the pan of product you just shelled out €30 bux on has not in fact transformed you into a thing of glowing goodness, but that's not really what highlighters do - unless you literally airbrush your face with 'em. And don't do that, eh?
No, much like bronzer, keep two things in mind with any highlighting product: go easy, and be subtle. That's the way to get a soft gleam that'll shimmer and gently accentuate, but not take over the rest of your makeup.
I've got a fair few of them in my overflowing boxes of product and I've picked out 12 to take a closer look at. So, lets kick off with the golds, shall we?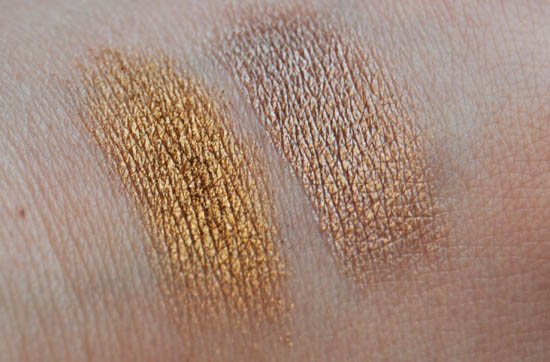 Nars Machu Picchu is a pressed powder with some golden sparkle.  While I do sometimes use complexion highlighters to set liquid makeup, I find this a bit too yellow, so it's best used sparingly on planes of the face that catch the light. It's very fine and silky, so it's hard to go wrong with it. You can lightly dust over a matte blush too, to add some shimmer.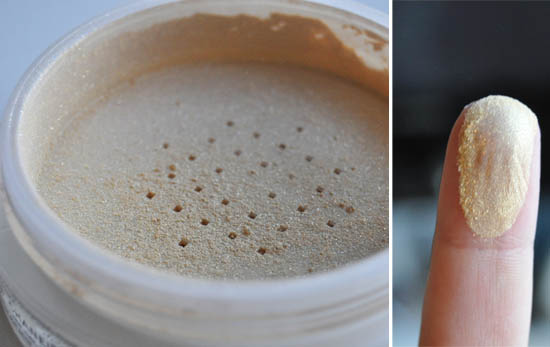 Chanel's Precieuse Or is beautiful, seriously glittery golden loose powder that you can use on face or body - mix with some lotion and apply it to chest, shoulders and legs too, if that takes your fancy. A SUPER light hand is needed here for facial highlighting as this is pretty OTT. SUPER LIGHT!  Y'hear me?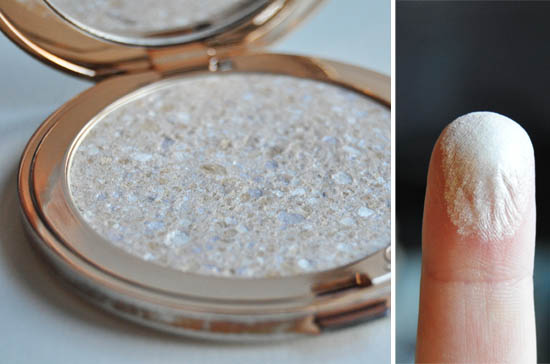 One of my much-beloved Guerlain Les Meteorites Voyage compacts. This is Gold Temptation and it's a shimmery mix of cool tones that you can use all over the face because it's quite light. This definitely delivers a much more subtle finish than many highlighters, but the payoff with that is you get a my-skin-but-a-little-more-glowy, and that's why I like it.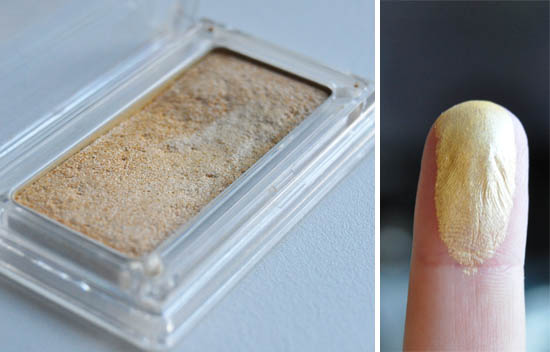 As you can see, this Shu Uemura Glow On blush in P Gold 93D is indeed, very gold. I rarely reach for this despite the formulation being super-creamy and soft: it's just too yellow for me. On a sallower or darker skintone, this would be beautiful, and I can only imagine the result it'd create on a black skin - it would be fab sheered out. On me, the effect is jaundice. Nein, danke.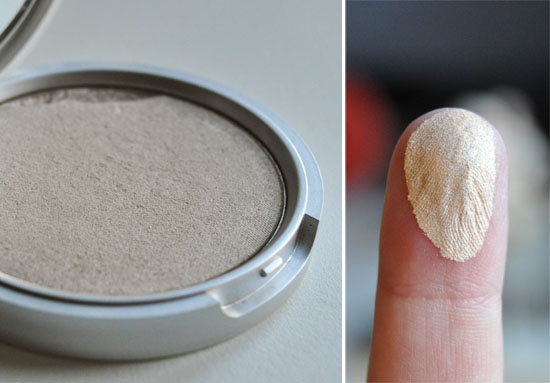 A relative newcomer to my collection is the Balm's Mary-Lou Manizer. Smart name, and a smart little product. The light was bad - threatening to snow - when I was shooting these pix so you can't get a 100% sense of what this is like, but it's an oyster-coloured shimmery powder that's really very nice on pale skin. Psst: the brand is about to become more widely-available here, with AWear stocking it in several of its big, key stores.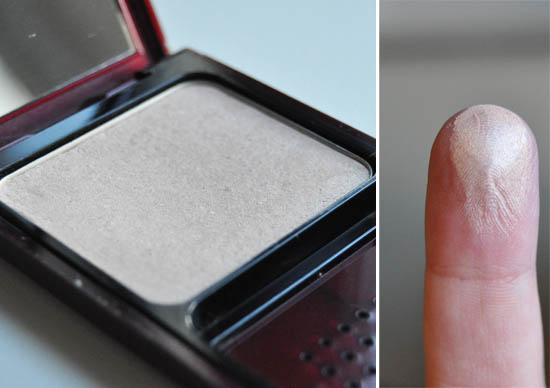 This is probably my favourite of the golds: it's a Kevyn Aucoin product, the Celestial Powder in Candlelight, and it's lovely to use, beautifully silky in formulation and on the skin is shimmery, subtle and gorgeous.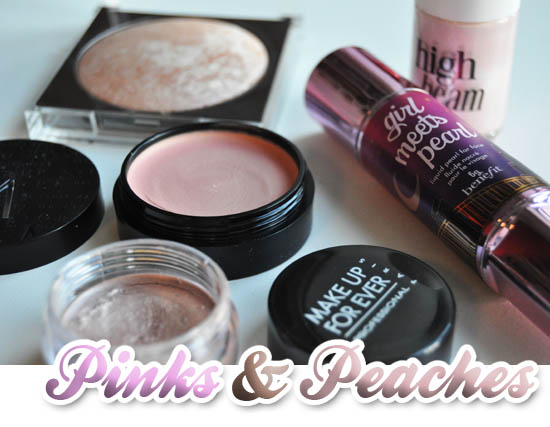 I've also got some pinky, peachy and rose-gold shades too. On Irish skintones these can look fantastic.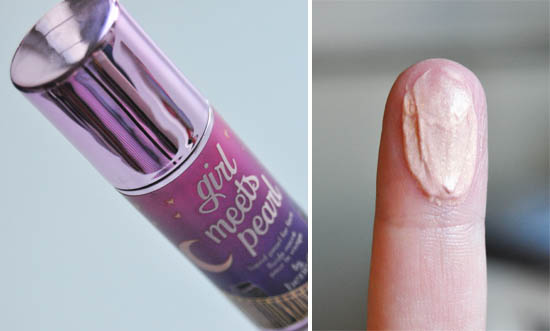 Advertised
Girl Meets Pearl is Benefit's newest complexion highlighter and where it differs from High Beam (below), is that it has more gold and pink in the mix, meaning it can work better across varying skintones as it's got tones that are flattering to milk bottles and sallower types. Pat it on gently with the pads of your fingers or buff it on with a duo-fibre brush.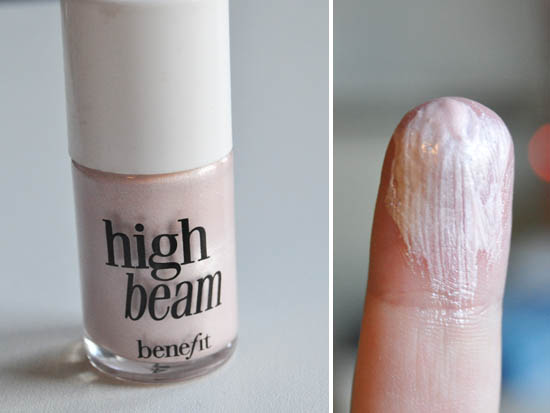 Benefit High Beam is very cool-toned and a lot of people don't get along with it as a result - if so, try Moon Beam, which has more gold tones. I ignored this for a long while but am back in the zone of really liking it again.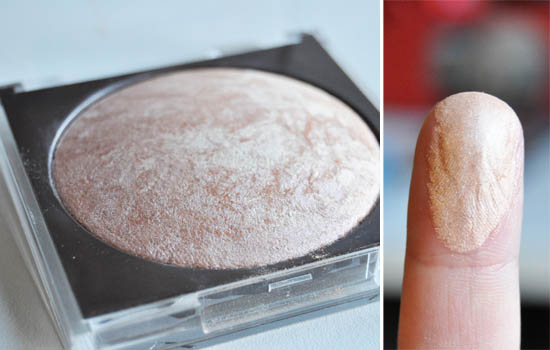 Originally, I bought Prestige's Sunbaked Mineral Bronzing powder to see if it would be a dupe for my Mac Perfect Topping, but it's not, being much peachier and golden in use than the former. As a budget option, it makes a nice highlighter though.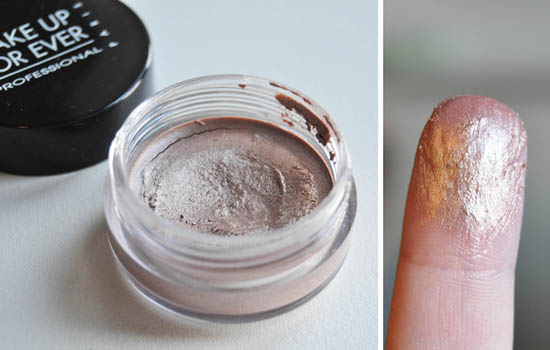 Part of Make Up For Ever's Aqua Cream lineup is this shimmery Champagne fella, 13.  Designed for use all over the face and not just the eyes, you can use this as shadow and as a luminizer, but as it's quite thick, you'll need a brush to gently buff it into place, I reckon. This is a multi-functional product that might look kinda boring but as a shadow base, Aqua Creams are also excellent.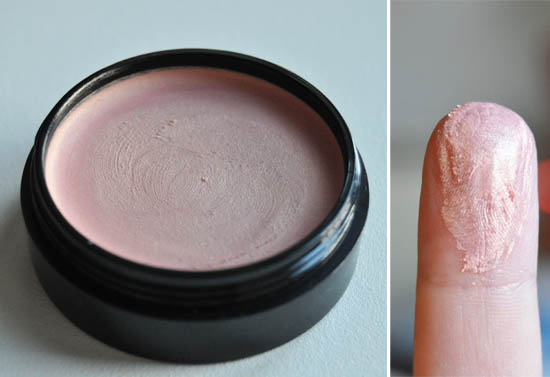 We took a look at some of Make Up Stores more OTT High Tech Lighters recently and this is a rather more wearable colour. Venus is a shimmering peachy coral shade that a warmer skintone will rock brilliantly.  For me, very very sheer is the way to wear this.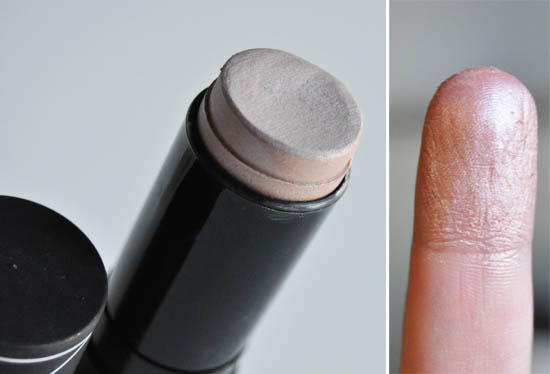 Nars Copacabana is a hybrid iridescent mix of silver and pink that's very cool-toned. It is, I think, the only silver highlighter I have and it's one I don't use a huge amount. Where it really comes into its own for me is with a red lip. I put some inside the cuipds bow (the dip below the nose) and it adds extra impact.
HOW TO USE
So, those are 12 highlighters/luminizers you might want to look into for Christmas, but as always, there's the eternal question. Er, where do I put this stuff, exactly?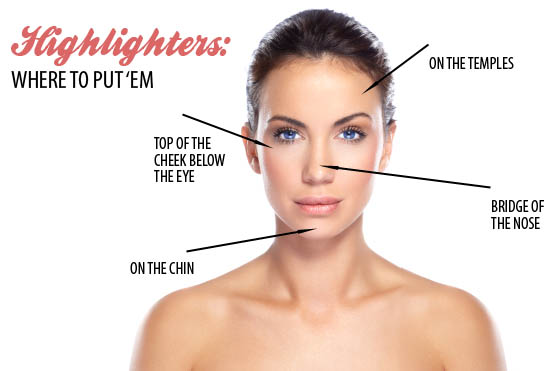 Ok, much like bronzer, you put highlighter on the parts of the face that would naturally catch the light - so the bony protuberances, if you will. And I'll say it again: subtlety is the name of the game here! You do NOT want a bang of robot off of you.
Here are some of my tips on where and how to apply:
For powder products, a regular blush brush works well, as do duo-fibre brushes. Duo-fibres are also excellent for lightly buffing on cream or liquid products
No matter what type of brush you use, tap off any excess before you apply
Apply blusher, and then above the apple of your cheek but below the eye, lightly dust your highlighter in from the sides of your face to about an inch and a half from the nose
Dust it down the bridge of the nose too
Don't forget the temples - a light-handed dusting at the sides of the forehead can be very flattering
If you like, you can lightly dab your chin too
Cream or liquid can be blended with liquid foundation pre-application for a small shot of all-over glow
AND FINALLY ...
Advertised
OK - most of my picks are high-end. If you're on a budget what can you do? Head to Eyeslipsface.co.uk and check out the Shimmering Facial Whip range, which cost a mere €1.70 each.  Eyeko's Cream with Extra Glow is verging on cult status among bloggers and costs €9.  At Marks and Spencer, Tess Daly Illuminating Face Balm is a lovely creamy highlighter and you get tons in the pan for about €12.