 My excitement is building here in Beaut today with thoughts of nostalgia, my penchant for stationary and makeup all combining into one unique product.
The clever people over at Clarins have just developed the world's best eyeliner and lip liner combo- the best part, it's all in a pen. Like those ones you would get for school. Remember these?

Advertised
Let me introduce you to 4 Colour All in One Pen.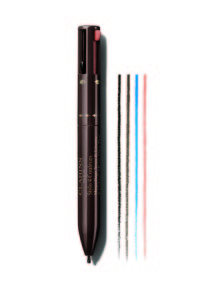 I love this, four coloured pencils in one pen, three for eyes and one for lip contour. With this one single product, you can accentuate the eyes, shape the lips, emphasise the brows and even draw freckles. it does it all. I've been playing with it all morning.
The only downfall of this product is that it's not available until the end of January 2017. Sorry guys, you will just have to wait. And FYI it's limited edition so make sure you are there bright and early for this launch. You don't want to miss out on this one.
Don't forget to check out our Instagram account to see it in the flesh!
Advertised
Are you as excited as we are about this?