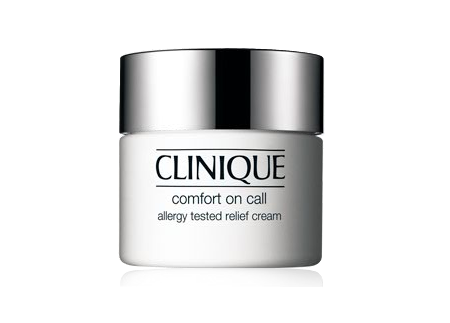 Suffering from dry, tight or sensitised skin this winter? Yup, me too.
I've been testing Clinique's new Comfort on Call allergy tested relief product for a couple of weeks now, and it has been exceeding all my expectations - believe me, I'm surprised at just how well my skin likes it. I was a firm fan of the brand's famous yellow moisturiser as a 20-something, and since then, while I've liked products like Super Defense well enough, I just haven't bonded long-term with one in particular.
This though, this is brilliant. A thick, balm-like texture, you have to work it up out of the pot, and warm it between your palms before applying it to the face. Suitable for even the most sensitive of skins, apparently, I found it incredibly nice to use. Hydrating really well, it leaves skin feeling smooth and comfortable and there's no stickiness.  That's down to ingredients including citrus jabara fruit extract (a superfood, apparently), shea butter, collodial oatmeal and sodium hyaluronate, excellent at retaining water.
Advertised
So of course, it must be causing Face Cheese, right? No - much to my amazement, it's doing the sort of job I expect from a thick cream, but without the pore-clogging side effects.
Is there anything bad about it? Yep, some may find it a bit pricey, and the fact that there's no SPF makes it a product I'm slapping on at night, but that is my only complaint.  It's not even a gripe - I could happily smoothe some SPF on after it should I be so inclined, but I thought in the interests of fairness I should try and identify something that wasn't 100% A-OK.
You'll find Comfort on Call at Clinique counters from February 1st, priced at €52.