 I love dry shampoo. It's one of those multi-tasking beauty buys that can make things that bit easier on a day when you're running late or if you want to give your hair a little oomph when it's looking flat or feeling a little too silky (anyone with fine hair will know what I mean). Previously I've talked about how much I love the Oribe Texturising Spray but that stuff don't come cheap, so I've been on the hunt for something I can use on a more regular basis, and I think I've cracked it.
CoLab is a brand that I knew little about until recently, save for the fact that Ruth Crilly of A Model Recommends had put her stamp on it. After having a shufty at the official website it turns out it's been around since 2012 (I'm behind the curve obviously) and that Ruth isn't the only well known face involved in this collaborative effort (it took me a while to make the connection with the brand name, but now I have it's so obvious!) as both Chapman sisters, Nic and Sam of Pixiwoo and also Real Techniques Brushes are involved along with session stylist Gow Tanaka and… er, Dexter the Cockapoo apparently.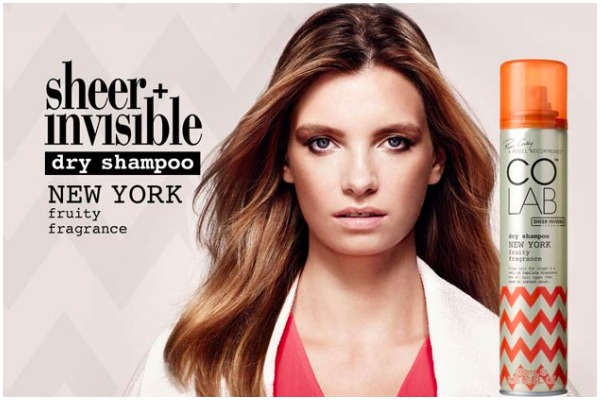 In a fateful turn of events, Cloud 10 Beauty have just started stocking CoLab and a delivery from them landed on my desk, containing a full size, New York/Fruity Fragance in it to test out. I have to admit; I completely and utterly judged this before trying it out, taking one look at the "Fruity Fragrance" tag and thinking – this is going to be sickly sweet. Also, given that it's only €3.99 for a full sized 200ml I thought it was going to be "cheap" and by that I mean really powdery which means dealing with white roots and an itchy scalp.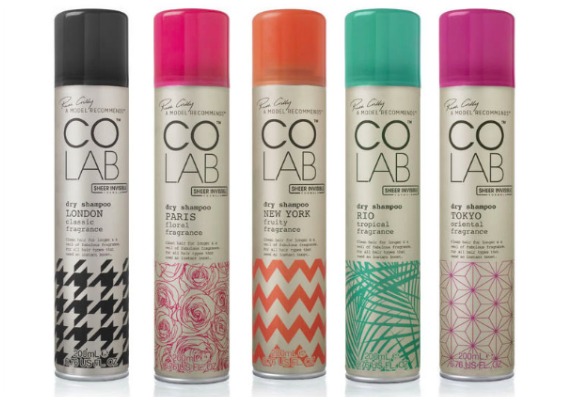 Advertised
Well, I'm pleased to say that I was wrong – the New York/Fruity fragrance is not akin to an Impulse body spray circa 1995 nor is it powdery in texture, rather it really is "invisible" as promised in the brand blurb. I've tested it out in my hair when it was clean to give it a little bounce and the results were the closest I've found to my beloved Oribe spray, I've also given it a go when my hair was not so fresh and it did the job there too, even in my fringe which is usually where things go south the quickest.
Since testing this one out I've also tried the Tokyo/Oriental Fragrance, which is very nice too, but there are a few more I've yet to sniff such as London, Paris, Rio and Monaco which are: classic, floral, tropical and fresh scents respectively. As I mentioned already, the 200ml can is €3.99  but these all come in travel sized 50ml for €2.99 which is handy.