 Bobbi Brown has a new lippie for us to try out. But what exactly is a crushed lip colour?
Lipstick is a very personal thing. As a makeup artist, I find that if you get somebody's lipstick shade wrong, it's the first and only thing they will notice. I always ask a lot of questions to investigate exactly what is their preferred lip product. I need to know do they like a nude or a colour? Matte or creamy? Red, pink or brown-toned? Lipstick or lipgloss? Finally, do they need it to be long wearing or are comfort and sheen more important?
As with any aspect of makeup, the easiest way to explain what you like is with a picture. It makes it so much easier than trying to explain a colour or a texture to someone. Lipstick is no exception. Your picture of plum lipstick could be extremely different to my idea of plum lipstick. It's best to avoid the confusion and show a picture of your kind of plum.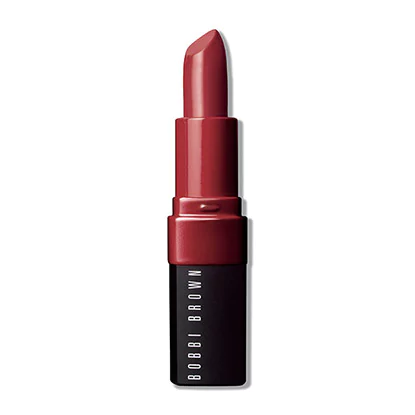 Advertised
Bobbi Brown has added a new texture of lipstick into the mix to make choosing your perfect lippie even more confusing... but we like it. Bobbi Brown describes the Crushed Lip Colour as 'a swipe-and-go formula that delivers perfect, blotted-down colour and kissably soft lips'. The idea is that the lipstick will look as if you applied a heavy coat of product and then blotted it away. So, if that's something you often do, this could save you a step in your makeup routine.
I would call this a light, natural lip stain in the form of a lipstick. It won't feel thick and heavy on your lips, and it stains them for long-lasting colour. Crushed lip colour is a great addition to a natural makeup look. It has a 'lived-in' appearance as opposed to the perfectly-lined and loaded-with-product Kylie Jenner look that is so often seen these days.
P.S This particular colour, pictured above, is what they call Plum. Would you describe the shade as Plum? It's worth keeping in mind next time you are having a frustrating conversation as you try to describe the pinky-brownish-purple colour that you are searching for and the assistant just isn't getting it.