 Dramatic evening makeup gives us a chance to play around with cosmetics more than we would on an everyday basis. It's fun to experiment with makeup and make a statement for a weekend night out or special occasion. I've done a series of understated, natural , makeup tutorials lately, including this first date look, so it's about time we break out the colour and do something a little more interesting.
This purple eye with gold accents is great for all eye colours. The purple will bring out green and brown eyes, while the gold will bring out green, brown and blue eyes. Everyone wins!
Step One
For a light and dewy base, apply Rimmel's Match Perfection Foundation (I'm using this in Light Porcelain) with fingers. A touch of Collection's Lasting Perfection concealer in shade 1 camouflages blemishes.
If your skin is slightly oily, now would be the time to apply powder to set your makeup so it will stay put all evening.
Give your brows their usual treatment. For me, this means running some Mac shadow in Omega through them on an angled brush, then brushing through with some clear brow gel by Catrice.
To ensure that the eye makeup has both lasting power and intense colour, I'm patting Mac's Paint Pot in Blackground onto my eyelid and smudging the edges with a fluffy brush. This will give the powder shadow something to grip to. Also, powder shadows always appear more intensely pigmented when applies over a black base.

Step Two
The purple shade I've chosen to use is No 7's Stay Perfect Shade and Define cream shadow stick in Deep Purple.
Apply this shadow directly onto the lid, winging it out just a little at the outer corner of the eye and blending the edges with a fluffy brush to create a smokey effect.
Run the purple shadow along the lower lashline too. Again, blend with a soft fluffy shadow brush to eliminate any harsh edges.
Next, take a gold shadow of your choice. I'm using Mac's Pigment Colour Powder in Cocomotion. It's a rich metallic gold that reflects the light beautifully. Apply it to the inner third of your eye using a cotton bud.
Pat it around the inner corner (top and bottom), working gently in toward the lid, as in the picture.
When you've covered the inner third of your eyelid, retrieve your fluffy brush and blend the shadow toward the centre of your lid. This way, the gold slowly blends into the purple shadow.
Advertised

Step Three
Take a black gel liner. As usual, I'm using Maybelline's Lasting Drama Gel Liner. With a fine liner brush, I'm using the liner to elongate my eye with a dramatic cat-eye flick.
If you want to see the various ways that liner can effect your eye shape, have a look at this article. To create the elongated eye that I have here, run the liner thinly along your lashline to the natural stopping point of your lashes on the upper lashline. This will be quite far.
Only when you've reached the very end of the eye should you pull the liner up to create your flick. Wing it out quite far, as in the picture.
To achieve the elongated look, keep the line thin toward the inner corner, and thicker toward the outer corner where your flick is.
Next, to elongate the eye further, run a gold liner along the waterline. I'm using Mac's Powersurge. You don't need to avoid this step (as you might with black liner) if your eyes are smaller as using gold in the waterline creates depth and interest but doesn't make the eye look smaller.
Two to three coats of your favourite mascara are essential at this point! I'm avoiding applying mascara to the bottom lashes as this will make my eyes look rounder - I want them to look longer rather than wider.

Step Four
Now for the finishing touches! I'm applying a touch of cream blush with fingers and patting it back along the cheekbone in the direction of my hairline. My current favourite is Clinique's Cheek Pop Blush in Peach Pop. (See a full review of this product here.)
If you apply too much cream blush, simply grab your foundation or concealer brush and blend out the edges of your blush with the remainder of the product on your brush. Cream blush can seem frightening, but mistakes are very easily rectified.
An evening look wouldn't be complete without highlighter. I'm using Benefit's High Beam. Apply a little to the back of your hand and pat a thin layer along the cheekbones, down the bridge of your nose and on your cupid's bow to reflect light beautifully.
Next, apply a nude lipstick or gloss to balance out the eye. I'm wearing No. 7's BB Lips in Ballerina.
Advertised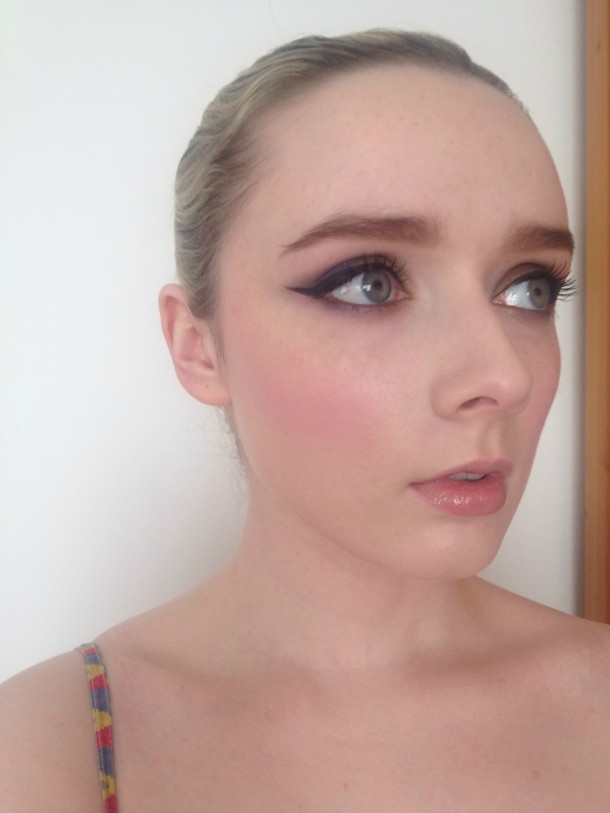 You're good to go! Would you wear a bold look like this one? Whether you're a regular or a lovely newbie, let us know what you think in the comments!