 Let us all rejoice that the weather is picking up (slightly) and with our tricky time warping - or as the Americans call it 'Spring forward' - we now have brighter mornings and longer evenings. Hurrah!
But for people like me  (and I'm talking about those of us who suffer from the dreaded hay fever), this is not such a great time. In fact, I'm in BITS and it seems that my lips are sustaining most of the damage. I feel like I am constantly suffering from the onsets of the flu and keep blowing my nose and breathing through my mouth (very attractive, non?) and my lips are just getting dryer and sorer. So today I thought I would round up some of my favourite products for getting them back in shape.
Firstly, that dead skin has got to come off before we can hydrate again and while I've heard all manners of notions about using a toothbrush or making your own, I am living in the age of the internet and I like things handed to me on a plate. Step in Lush's 'Mint Julips Lip Scrub'. This scrub smells exactly like After Eight's and it's sugary texture is great for bringing lips back to their original state. My favourite part is that you can lick it off afterwards and eat it (no really, Lush tell me that you can!) and it tastes good to boot.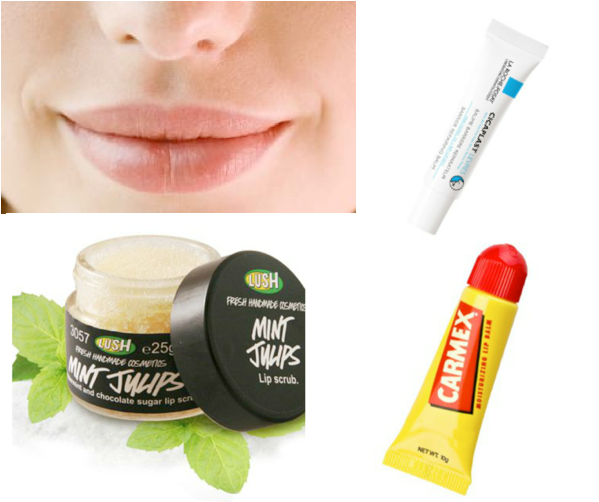 Once our lips are scrubbed to perfection, we can choose from some of my favourite lip balms. First up, an oldie but a goodie - plain old Carmex. To me, this one is a little boring compared to the exciting releases of Benefit's Lip Balms etc., but the thing about Carmex is it actually works. You immediately feel a tingle after application as it gets to work healing and moisturising your poor lips. I have tried the brand's cherry flavour before but I find that it is quite diluted and not half as healing as the original so I wouldn't be bothered with the fancy new ones they have brought out recently. The original, however, is an absolute handbag staple.
Another balm I find that does more than simply add a sheen to your lips is La Roche Posay Cicaplast Levres. It is a clear gel formula that acts as a barrier on your lips, preventing moisture loss and adding hydration. This doesn't tingle or sting - like most of La Roche Posay's products, it is non-fuss - it simply works! The texture too feels quite cushion-like and really soothes sore lips.
Advertised
My other favourite balm is the infamous EOS Sphere. The price is hiked quite considerably and they can be hard to come by here, but I picked mine up in the States where they have them in every supermarket for less than $4. My favourite scent is the Sweet Mint and it tastes quite nice too. Yes, I really need to stop eating my lip products - this is why I can't have nice things. This isn't medicated or deep healing like my other two picks but is handy for moisturising top-ups throughout the day. It is also organic and comes in heaps of fruity flavours.
Finally, if your lips are healed but you are worried about drying them out again, I like to use the Revlon ColorBurst Lip Butters. These are super creamy lipsticks with a balm-like feel and dozens of wearable shades to choose from. These are a holy grail and a perfect way to make your new super-soft lips kissable once more!
To the comments! Let me know your top tips for rescuing sore, sad lips!