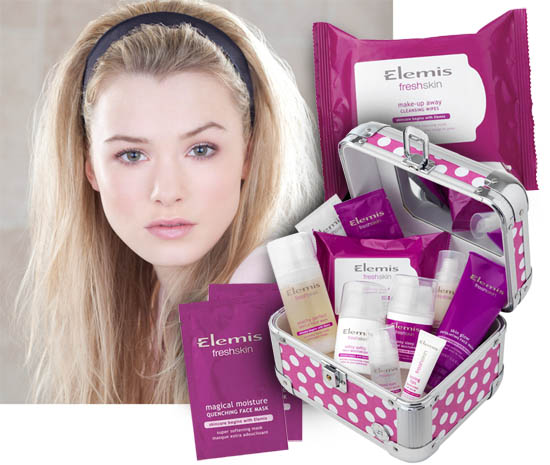 With its luxury hotel and Heathrow terminal five executive travel lounge connotations, Elemis is a UK spa brand that's posh, grown-up and exclusive. Consequently, it's out of the reach of many. In April, it launched a younger skin line, Freshskin, which is a bit of a departure: cheaper, aimed at an entry-level customer (albeit still one with cash to splash and an interest in fancy products), it's a brand apart. Packaging, ethos and customer for this line are totally different to the regular Elemis user and while I'm happy to slather on Melting Cleansing Gel and Pro Collagen Marine Cream I knew my skin just wasn't down with the challenge of Freshskin.
Enter Sarah O'Hegarty. A fashion writer, stylist and blogger over at The Tinder Box, Sarah's also into beauty and I knew she'd be up for the challenge. At 23 she's right inside Elemis' target market as well.  Possessed of dry, sensitive skin, she's perfectly positioned to see how these products perform and has been giving them a whirl for the past couple of months. Used to lotions and potions from No7, how would Sarah find the step up to Elemis?
 "Targeted at teens and those in their mid-twenties the Elemis Freshskin range is designed for the busy girl about town. Complete with Barbie-pink packaging and a youthful advertising campaign the range bridges the gap between upmarket spa products and accessible skincare; boasting products such as Softly Softly Daily Moisturiser, Dreamy Sleep Night-Time Moisturiser, Make-Up Away Cleansing Wipes, Tired Eyes Soothing Eye Rescue, Loving Lips Quenching Lip Balm, Magical Moisture Quenching Face Mask, Peachy Perfect Gentle Face Wash and Skin Glow Exfoliating Face Wash.
I'd heard rave reviews about the eye cream, Tired Eyes Soothing Eye Rescue, but I was disappointed to learn that despite its refreshing and reviving benefits it does nothing for wrinkle prevention. I think the lads at Elemis have forgotten that 23 year olds worry about fine lines just as much as the next gal, so I won't be forsaking my anti-ageing cream for this one just yet.
The Make Up Away Cleansing Wipes thoroughly remove all residue, including eye-make-up. However if your skin lies on the more sensitive side of things I would steer clear of these as they can sting.
Advertised
What really works is the intensive lip repair balm. The mint-flavoured balm is extremely hydrating and is a great base for lipstick. To get a really thorough result, exfoliate your lips with the Skin Glow Exfoliating Face Wash first and then apply. While we're on the subject, this fruity-smelling wash is gentle, refreshing and great for removing dead skin cells.
By far the best product is the Magical Moisture Quenching Face Mask. With white lupin, arctic cranberry seed oil and apple extract it's a real treat for tired and dull skin. After one use the difference in my skin was really noticeable and one colleague even commented on my "glowing skin". Definitely a winner!"
Cheers, Sarah!
The Freshskin range is available on Timetospa.co.uk, prices start from £8/€9.10 for cleansing wipes and go up to £22/€25 for the Dreamy Sleep Night-Time Moisturiser. The luxury pamper pack in the polka dot vanity case above costs £99/€113 and contains the entire range.