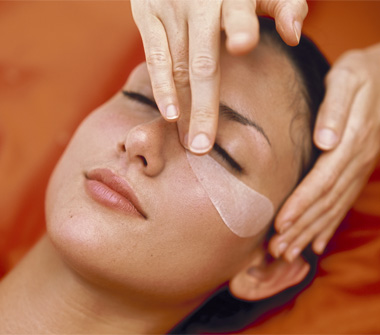 Ahem. Ting ting (bangs fork on glass). Did we mention a time or two that we were down in Parknasilla last weekend?
Yes? Oh well never mind - we had such a fabilis time that we can't shut up about it! I'm sure you'll indulge us this once...
Well today boys and gerrils I'm going to tell you all about the Elemis Oxygen Facial I had there. As regular readers will know, I'm a big big fan of Elemis and their gorgeous treatments and skincare.
So dithering over the spa menu (SM) for ages*, I finally decided on the Oxygen treatment, mostly because I'd never tried it before. And also, (though it pains me to say) a few nights of not-taking-makeup-off had left me with, er, congested areas. So I reckoned this would be perfect.
Advertised
And it was. All the lovely Elemis elements are here - the neck and shoulder massage and the uber relaxing hand and arm massage. The cleansing and masking and moisturising - all with the gorgeous smelling products. This treatment uses one of those Hannibal Lector stylee masks** - albeit a lovely silk one - but it's all to the good as "skin will be clean, clear and balanced with a beautiful, matte finish". The facial massage stimulates lymphatic drainage and unclogs those pores very well indeed. Total satisfaction.
Then it was off to get ready for a delicious din-dins and many wines in the Pygmalian Restaurant. Now do you see what I mean by fabilis?
*looking up spa menu online before leaving for Parknasilla; poring over spa menu once ensconced in (gorgeous) room; dithering in the actual spa with the actual menu, while patient therapist waited for absolute final decision (while probably secretly wanting to smother me with a fluffy bathrobe).
** face shaped with breathing slits cut in it. Aieeee! Sounds worse than it is - read my thoughts here