 Elizabeth Arden Ceramide Capsules Eye Serum follows in its famous face serum's footsteps, and Arden fans will love it
The ceramide capsule face serum lives in unique serum pods that have gained cult status since their debut in 1990. It got a makeover earlier this year, adding new ingredients to help tackle wrinkles and uneven texture and to hydrate the skin. And you thought Eight Hour Cream was the only iconic product in Elizabeth Arden's arsenal. 
I love the face serum ampoules, which despite their small size, pack a big punch. It's helpful knowing that the pea size is all you need, too. They're also super handy for bringing on trips; teeny tiny pods won't take up much space in any travel bag.
You won't mix them up with the eye serum version, either, because those pods are even tinier. That's my only little criticism; they are quite hard to open - for someone with big clumsy fingers, anyway - and the serum gets all over your hands if you're not careful. It turns out a lot more liquid is contained in the capsule than you might think. I use one for both eyes.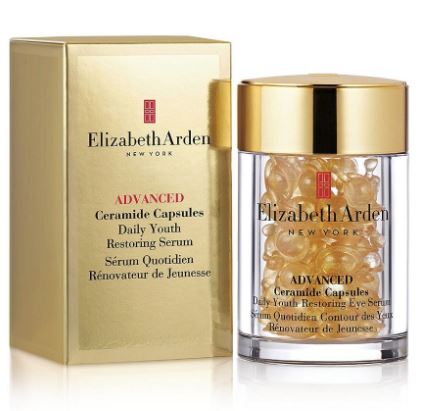 Advertised
Elizabeth Arden Ceramide Capsules Eye Serum contains all the same ingredients in the face serum that are appropriate for eyes and include two more, especially for peepers. Hops Extract is an anti-inflammatory that works to boost brightness and radiance, and Butcher's Broom Extract helps restore firmness.
Each little pod is biodegradable, fragrance and preservative free - and potent. I can see the difference in hydration after using them once daily for two weeks. Fine lines have been slightly decreased too.
I'm a fan of the face serum capsules, and these are worthy offspring. The Elizabeth Arden Advanced Ceramide Capsules Daily Youth Restoring Eye Serum (to give it its full, ever so slightly long-winded name) is available from the beginning of July. €64, 60 capsules.