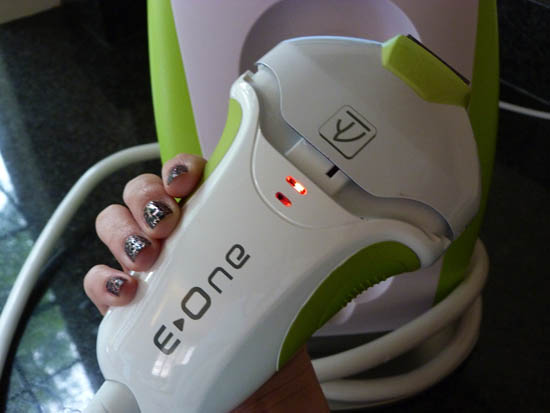 "Is the bear a Catholic?!" I thought when asked if I'd be up for trialling an at-home hair removal device from French company E>Swin. Getting some class of laser or IPL hair removal is on my "To Do Before 30" list anyway, and the timing was perfect as I'd started eyeing up the DIY options.
Rumours that there was a page in my diary dedicated to a comparison chart of such devices have not, I'm afraid, been exaggerated in the slightest. All come with fairly hefty price tags and represent a major investment, but a glance at that page told me that the E>One is considerably more expensive than other at-home IPL hair removal gizmos. I'll deliver my own verdict as to whether I think it's worth the expense when I finish my trial, but here's what manufacturers E>Swin have to say about it.
Firstly, they say, it's the first IPL device to be medically certified for use at home, and uses the same technology found in professional devices, simply packaged in a smaller, more efficient unit for the home market. It uses the highest level of light energy output of any similar device - up to 12 joules per cm2, depending on the intensity of the setting used.
The manufacturers call the results achieved with the machine permanent progressive hair removal, which is comparable to what would be achieved in salon: after completing a course of treatments, one or two top-up treatments a year are all that should be required to remain hair-free. I'm told that unlike other devices which require a significant dark hair/light skin contrast, this will work on fair and dark hair, tanned skin, and skin tones up to and including Asian.
In addition, it can treat a larger area with each flash than others I've looked at. It has a 6cm2 treatment window - that's the part of the device that's actually in contact with skin to zap the hair - which mightn't sound like much, but it's about twice the size of most other DIY offerings. This larger working surface means that it should be able to cover more ground faster than its rivals.
My own fetching lime green E>One IPL machine arrived by courier late on Holy Thursday, and we were due to head off home first thing in the morning on Good Friday, but hey. I wouldn't let a little thing like needing to sleep or pack up myself and the dog for a 10-day trip stand in the way of a little late-night beauty experimentation.
Besides, I was beyond excited to try it: city shorts and the silky smooth legs needed to wear them were beckoning me. There was no way in hell I could wait until we arrived back in London to take this baby for a spin.
The base unit of the machine's about the size of a one of those party-sized mini Heineken kegs. It operates on mains power, and a handheld applicator containing the flashing head runs off another cable attached to the base unit. My small hands meant that it took a while to get used to the actual handheld zapper portion of the E>One: I found it a bit bulky and unwieldy at first.
Advertised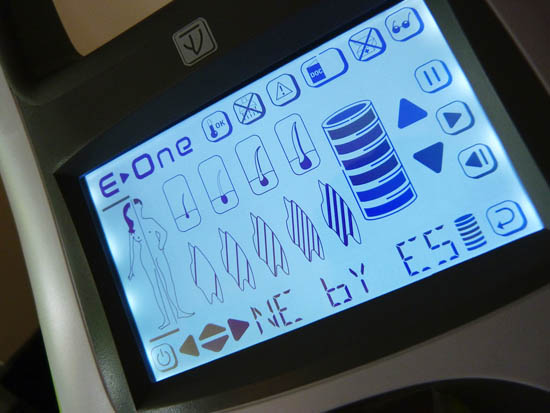 Once I had impatiently read all the accompanying literature and instructions and safety notes, I was ready to rock. The process is fairly straightforward: enter your gender, skin type, hair thickness, and desired intensity into the touchscreen control panel on the base unit, clean and mark out the area to be zapped with the white pencil provided, shave it, apply the conductive gel, don the safety goggles, and away you go.
However, that's not to say it's all plain sailing. There was the aforementioned tiny hands issue, and I had to alternate between my specs and the safety goggles to check where I needed to zap next and then actually do the zapping since they didn't fit neatly one inside the other.
Even without all that faffing about, there's no getting away from the fact that this is a sloowww old process. It took about 45 minutes apiece to do each leg to about two inches above the knee (at which point I was told to go to bed). Underarms, though, were a joy to do - well, as much of a joy as burning the hair out of your follicles can be - and only took about 5 minutes a side. Per the instructions, which dictate leaving a fortnight between the first and second treatment, I'll be getting stuck in to round two on the legs and underarms making a start on my bikini line and upper lip - it's safe for use on face, just not around the eyes - tonight.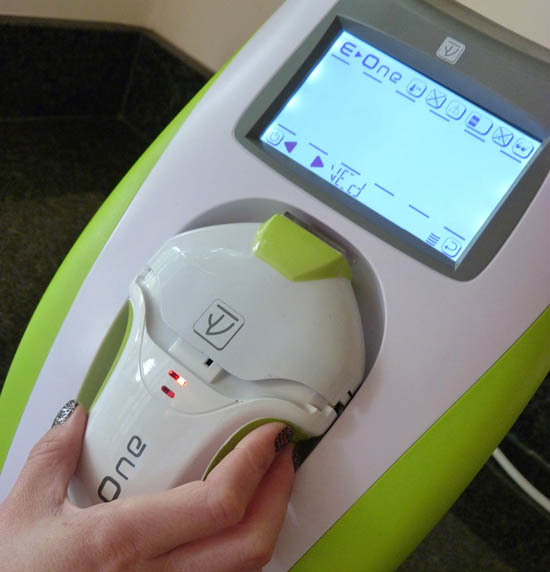 Discomfort is minimal, which I was really surprised about. I started on the lowest intensity but quickly switched up to level 4, the second highest intensity setting, when I realised how little sensation I was feeling. A bit of heat - that was it. None of the feeling of a red hot poker sticking into every pore that I'd been anticipating.
What's most encouraging is that I can already see a difference under my arms. Distinct (and very attractive) bald patches were plain to see from the first use.
Sad as it sounds, I'm really looking forward to settling down for my next session of hair zapping!
Advertised
Lynnie's E>One is being provided for trial by PR, she's (sadly!) not getting to keep it once she's done. E>One pack prices start at €1499 with the option to pay in four interest free installments following an initial deposit. Find out more on e-swin.ie