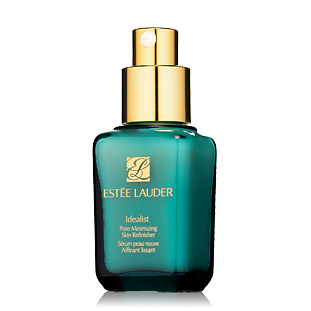 Something was missing from my life. And I didn't even realise it ... until now.
Have to admit I've had this little blue bottle of goo, €50, for ages, but was so busy finishing other serums that I didn't really look closely at it. And the name "pore minimizer" made me think of oily skin with enlarged pores and I just thought, oh I don't have that.  It's been around for ages (Kirstie reviewed it back in 2007) but I had never personally road tested it.
However I know the magic that Estee Lauder serums can work, so I took it out again and actually found out what it is supposed to do this time round. Refinish skin that's what. Smooth it out, banish the look of nasty blocked pores and get rid of those teeny tiny blackheads that make your skin look rough. Pat it on (you only need to use a squirt), wait for it to sink in and then put on your regular moisturiser.
Advertised
Give it four weeks to work fully they say. Well within two days the difference was incredible. I'd been trying out all the regular exfoliators to try and scrub my skin smooth and this is the best of the lot. I knew a glycolic peel would blast out all the congestion but now I don't have to go for one. To borrow some of the drain unblocker lingo the Idealist powers down through the congestion and makes your sink drain again. Or, er, something.
Deadly stuff.